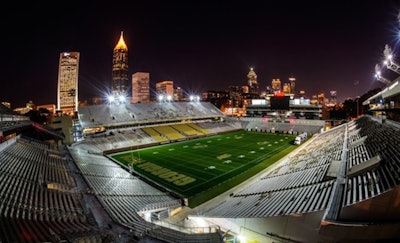 Georgia Tech will be the first university in the world to integrate bitcoin payments into its stadium concession sales, the school announced Wednesday.
Bitcoin will also be accepted at student dining locations and through the school's shopping credit system. The school has partnered with BitPay, "the world's leading bitcoin payment processor," to make it all possible, according to GT's press release.
"We look forward to working with BitPay to make bitcoin a viable payment option for our students and fans," Georgia Tech AD Mike Bobinski said. "At Georgia Tech, we are always looking to lead in innovative ways, and this partnership with BitPay gives us an opportunity to do so by integrating this new technology at a sports venue and in the daily lives of our students."
Bitcoin point of sale devices will be located in the student section of Bobby Dodd Stadium and an on-campus Barnes & Noble store.
In July, BitPay announced a breakthrough partnership with the Georgia Tech Athletic Association. The sponsorship is designed to build awareness to bitcoin by displaying BitPay's logo along with the bitcoin symbol in Bobby Dodd Stadium and the McCamish Pavilion through the 2014-2015 school year.
Bitcoin is a software-based online payment system. Other well-known organizations to accept bitcoin payments include WordPress, Overstock.com and Expedia.