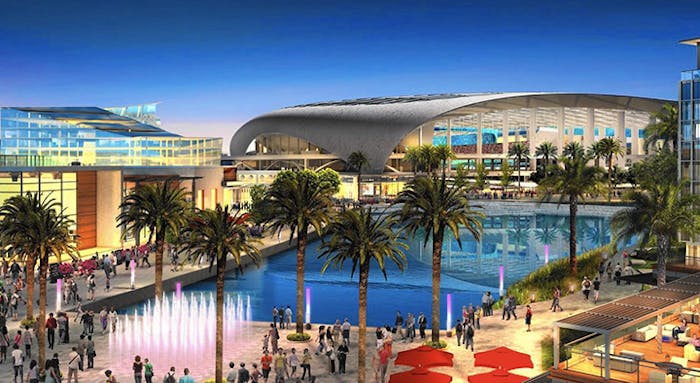 The St. Louis Rams — formerly the Los Angeles Rams — might be headed back to their former home.
Rams owner Stan Kroenke plans to build an NFL stadium in Inglewood, Calif., which would set the stage for the team's return to L.A., the Los Angeles Times reports. Kroenke, who became the full owner of the Rams in 2010, bought 60 acres of land adjacent to the Forum in Inglewood a year ago. Now he's teaming up with Stockbridge Capital Group to build an 80,000-seat NFL stadium, a 6,000-seat performance venue as well as retail, office, hotel and residential space on the 283-acre Hollywood Park site.
The Times reports the Rams could be in L.A. as soon as 2016. Any move or relocation of a franchise must be approved by the league's owners.
Kroenke's announcement is just one of many stadium proposals the Los Angeles area has seen over the years. The nation's second-largest media market hasn't had an NFL team since the Rams and Raiders left in 1994. But Kroenke's move is significant because it is the first time an existing team owner has controlled a site large enough for a stadium and parking.
Later this month the Rams can choose to convert their lease in St. Louis to year-to-year. It's no secret the team is unhappy in the Edward Jones Dome. That facility, built in 1995, is now considered outdated by NFL standards. Since 1995, 27 NFL stadiums have either been constructed or had at least $400 million in renovations.
The city of St. Louis proposed a $124 million renovation to the Edward Jones Dome in 2012 with the city and the team splitting the costs. That deal was rejected by the Rams. Later in 2012, the team countered with a plan for a $700 million overhaul of the venue. That deal was rejected by the city.
The developers of the Inglewood stadium say no tax dollars would be used for the construction of the project, including the stadium. The stadium could be completed by 2018, the developers said.
RELATED: How Stadium Construction Costs Reached the Billions
Kroenke is the NFL's second richest owner, worth $5.8 billion, according to Forbes Magazine. He made his fortune in real estate, although his family also owns the Denver Nuggets and Colorado Avalance and are significant shareholders of the English soccer club Aresenal.
The Rams played in Southern California from 1946 to 1994.