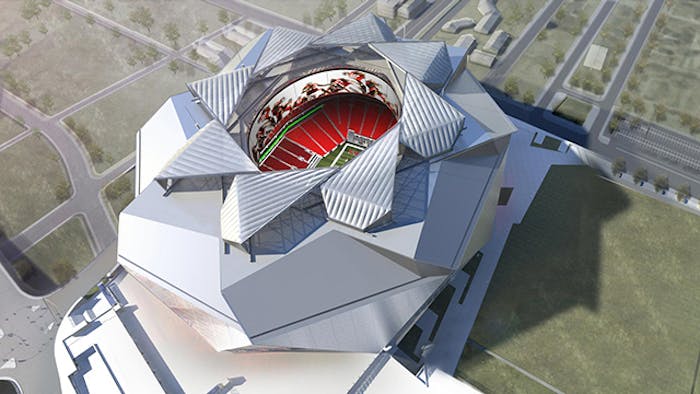 If you've read AB, or even just a casual NFL fan, you may have heard that Atlanta is building a $1.4 billion replacement for the Georgia Dome.
And as you might have guessed, you get quite a bit for $1.4 billion. This dramatic fly-through video we found on the website for the new Atlanta stadium gives viewers a feel for what the facility will look like when it opens in 2017.
The stadium is being designed by 360 Architecture which was recently acquired by HOK. The project's mission is to "provide Falcons fans, MLS Atlanta fans and other event guests with an unparalleled experience, while contributing to the economic growth and success of the city and state," according to its official website.
It is being built on land next door to the Georgia Dome, the current home of the Atlanta Falcons, which opened in 1992 at a cost of $214 million. The new stadium will feature 190 suites (compared to 171 in the Georgia Dome), 700 points of sale (compared to 407), and its unique, circular video board will total 63,800-square feet, tops in the NFL.
RELATED: How Stadium Construction Costs Reached the Billions