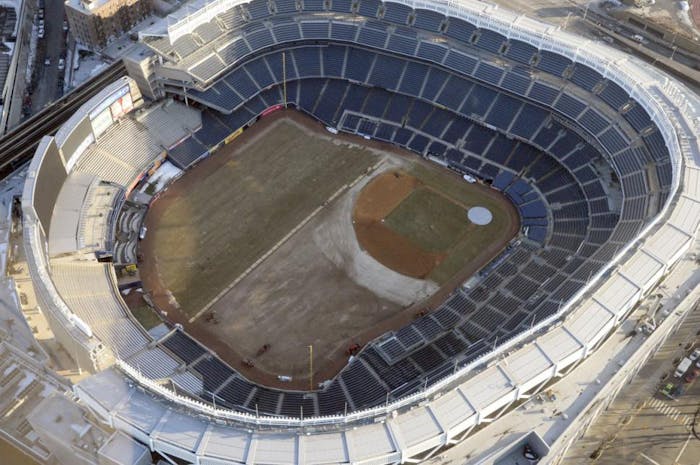 Yankee Stadium is preparing to host its first event of the season this Sunday. No, Opening Day hasn't come early -- instead, New York City FC will play its first home match at the historic park. Fans are excited for this event, which has already sold more than 30,000 tickets, prompting the club to open upper levels of the stadium to fit more people in for the game.
However, not everyone is happy about the new events taking place at Yankee Stadium. Despite assurances that the stadium will undergo smooth turnarounds between baseball games and soccer matches, any Yankee players have expressed concerns about the conditions their ball field.
Following past events on the field, both the infield and outfield sustained damage that required players to alter the way they were playing, and with 17 NYCFC soccer matches set to take place between this Sunday and October 25, players are bracing themselves for the worst.
RELATED: Soccer Draws Top Yankee Stadium Crowd in '14
Yankee's infielder Brendan Ryan said the NYCFC games are "not going to help" the field's condition and is planning to play much more aggressively so that a ground ball does not take an unexpected hop on him due to uneven turf.
Yankee's first baseman Mark Teixeira was more outspoken, saying, "It'll definitely cause an issue, but it's nothing that we can control so we can't worry about it. It's terrible for a field."
With the increased use of the field, players are depending on the Yankee's ground crew to ensure that the turf will be in good playing condition when it's their turn to use Yankee Stadium.
According to outfielder Garrett Jones, "It does chew up the grass a little bit, but our grounds crew is pretty good at getting it back in shape. It's just going to be more work for them."
Sharing the field was supposed to be a somewhat temporary arrangement between the two teams with expectations being that the NYCFC would soon build their own stadium in one of New York City's five boroughs. However, finding a site for the new stadium has been stalled, which means that the Yankees and the NYCFC can expect to be sharing Yankee Stadium for at least the next few years.
NYCFC officials are confident that there will not be problems with the field due to the soccer team using it. According to NYCFC president Tom Glick, recent soccer exhibition games that have taken place at the stadium have proved that the field was able to handle the additional use.
RELATED: Maintenance of Fields, Tracks, Courts, and Rinks Affects Game and Globe
Members from both teams have worked to coordinate schedules so that the Yankee's ground crew will always have at least three days to convert the field from baseball to soccer and back to baseball, with the exception of one time this summer where they will only have two days. Mobile lighting will be used to regrow grass between games, and the pitcher's mound is far enough away from the soccer field that it can stay during soccer matches.
Yankee's left fielder Brett Gardner is not as worried as some of his teammates about the soccer games that will take place on the field. From his past experience, other events such as concerts or boxing matches, where fans are allowed on the field, have done much more damage than soccer games where fans remain in the stands.
What Gardner is uneasy about is when the time comes that all of the old grass needs to be pulled out and new sod laid down. According to Gardner, this is when injuries become a major concern for outfielders.
"Problem is the root system. After you put new grass down, there's no root system, so essentially you're running full speed on top of AstroTurf that's sitting on top of cement. And that grass will give way, and you blow something out—knee, ankle."
However, hopes are that with soccer fans in the stands and an outstanding grounds crew at Yankee Stadium, the grass will remain intact and the infield in solid playing condition when it is time for the Yankees to take to the field.