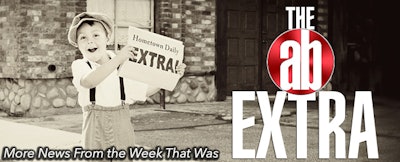 We dive into the second edition of The AB Extra with some Final Four coverage, an April Fools Day tweet gone wrong and heroics from two YMCA lifeguards. Today we begin with this heartwarming display of sportsmanship in women's college basketball.
Classy Coach Helps Opposing Player Join 1,000-Point Club
Scoring 1,000 points in a college career is a benchmark that represents amazing talent and consistency. But as the seconds ticked away on the college career of Villanova's Emily Leer, it appeared she would finish just one point shy of that benchmark.

Her Wildcats trailed trailed West Virginia 73-67 with 7.9 seconds left in last weekend's WNIT quarterfinal. That's when Mountaineers head coach Mike Carey, knowing Leer had 999 career points, instructed his team to foul her so she could go to the free throw line. Leer hit one of two free throws and finished her career with 1,000 points. "West Virginia emerged victorious, but sportsmanship was the day's real winner," wrote ESPNW.
---
YMCA Lifeguards Called 'Heroes' in Pool Rescue
A 17-year-old lifeguard is being lauded as a hero after rescuing a 26-year-old man who was drowning in the pool of a Lowell, Mass. YMCA. The lifeguard, Janavi Patel saw the man sinking motionless toward the bottom of the pool's deep end. She jumped in and pulled the man, estimated to weigh about 250 pounds to the surface.

Senior lifeguard instructor, Dominique Rivera, who assisted in the rescue effort credited the entire staff at the YMCA, noting that some co-workers called 911 while others fetched an automatic external defibrillator in case it was needed.

"It was a group effort," Rivera said. "It's a big team here."
Thanks to that effort, a tragic situation like this, was avoided.
---
British Soccer Player Dies in Freak Accident
On the other end of the spectrum from the story above, comes the tragic story of a British soccer player who died this week following a freak accident during a match.

As the Bristol Post reports, Stoke Gifford United player Ben Hiscox slid and hit his head on a clubhouse wall after a challenge during a match on Saturday.

The 30-year-old striker who died in hospital on Tuesday had been part of the club since he was a teenager.

Friend and vice-chairman of Stoke Gifford United, Ben Bennett, 33, said: "He was a big part of the club and the team here. He had been part of the club for a long time, since he was about 16. He was a total legend and one of the nicest guys I have ever met.
---
Video: Final Four Court Timelapse
The NCAA Men's Final Four gets underway tomorrow. AB's hometown of Madison, Wis. is buzzing as the Badgers are back in the national semifinals for the second straight year. Here's a look at how the court was put together. Great work by our friends at Connor Sports.
The National Championship stage from plank to paint… #FinalFourBuilt by Connor Sports

Posted by NCAA March Madness on Friday, March 27, 2015
Some Badger fans are calling the red and white court design an "omen." We'll see if that's enough to push them past undefeated Kentucky.
---
Another Athlete Making Poor Decisions on Twitter
Not a week goes by without an athlete making a poor choice on social media. It's probably why our 9 social media tips for student-athletes is always one of our most-read posts. This week it was Bruce Irvin, a linebacker for the Seattle Seahawks getting himself into trouble.

As NESN reports, he caught plenty of heat for this April Fools' Day "joke."
Before this hits the media I just wanna apologize to my fans and the @Seahawks organization once again. I made a terrible decision b driving

— Bruce Irvin (@BIrvin_WVU11) April 1, 2015
After I had a few drinks. I will do everything to get ur trust back and will become a better person after this.

— Bruce Irvin (@BIrvin_WVU11) April 1, 2015
How many of yall thought I was serious ?! Haha April fools!!!

— Bruce Irvin (@BIrvin_WVU11) April 1, 2015
Ok it was a joke didn't meant to disrespect anybody. Damn relax

— Bruce Irvin (@BIrvin_WVU11) April 1, 2015
Nothing like a good drunk driving joke to get your fans riled up… Just a reminder, when in doubt, don't press send.
---
Avaya Stadium Used 256 GB of Wi-Fi in MLS Opener
As AB reported back in 2013, Wi-Fi is increasingly seen as a must-have stadium amenity. Today we're seeing examples of that all over the nation. The latest comes from Avaya Stadium (covered in last week's Extra), home of the MLS' San Jose Earthquakes.

From the Mobile Sports Report: Fans at the San Jose Earthquakes' MLS home opener at the brand-new Avaya Stadium used 256 gigabytes of data on the venue's Wi-Fi network, according to statistics provided by Avaya, which also runs the wireless network in its new namesake stadium.

With a sellout crowd of 18,000 on hand to jam the new stadium, almost 25 percent of the attendees logged on to the Wi-Fi network, with a total of 4,217 unique connections during the March 22 game, Avaya representatives said. The peak number of simultaneous connections during the 2-1 Earthquakes victory over the Chicago Fire was 2,735, Avaya said, with an average connection number of 1,247 fans on the Wi-Fi network during the game.