"You don't build the church for Easter Sunday," the saying goes, and the same applies to the sizing of today's sports cathedrals — the stadiums and arenas at the highest levels of competition — many of which are recognizing the strategic benefits of downsizing their seating capacities.
Bigger is no longer regarded as necessarily better, and seating capacities don't bring the bragging rights they once did. "There was status that went along with that," says Ernest Joyner, a principal at Sink Combs Dethlefs in Denver. "And then what teams had was a half-full arena for all their games, and the way that the bowl was configured wasn't really optimized for the fan experience. Now we're going back into a number of facilities and downsizing from, say, 12,000 to 8,000 seats. They're suddenly selling out games at 8,000. They're pulling more people than they've ever pulled, because the environment is just so much better."
The buzz inevitably extends beyond facility walls. "The old wisdom was, 'Well, we always want to have a ticket for anybody who wants a ticket,' " Joyner says. "But when you're experiencing sellouts, more people want season tickets. More people buy their tickets in advance. And then there's buzz about a hard-to-get ticket. If everybody knows that they can walk up the day of a game and get a ticket, no one talks about it."

QUALITY OVER QUANTITY
The Robins Center, home to University of Richmond basketball since 1972, saw seating capacity decrease from 9,071 to 7,201 once a $17 million Sink Combs Dethlefs renovation was completed last year. Rows of the facility's least-desirable seats were replaced by corner decks of premium seating faced by modern message boards.
In fact, the greatest consumer of seating capacity is often the creation of premium seating options — suites, club seats, social gathering spaces — that didn't previously exist in a given facility.
The Jacksonville Jaguars' EverBank Field sacrificed 7,100 seats in the stadium's north end zone in favor of an immensely popular elevated deck complete with in-ground, lifeguarded pools and party cabanas. It's a sparkling example of how the consumption of live sports has evolved, according to Scott Radecic, senior principal at Kansas City, Mo.-based Populous, which handled the EverBank renovation. "More people are spending less time in their seat. They don't want to be a spectator at the event anymore. They want to be a participant in the event," Radecic says. "That changing dynamic influences the designing of social experiences into facilities more than ever before."
Changes to actual seats can eat into capacity, as well. It was once common for football stadiums, and even some basketball venues, to pack spectators into bleacher seating, but even slight variations in the widths of individual seats — from the accepted 19-inch minimum to the more premium 20 or 21 inches — can add up to significant reduction in overall capacity. Whereas a patron sitting on a bench seat might occupy roughly five square feet, that number inches closer to six square feet if the individual is in a chair-back seat.
"Sections are generally about 30 to 35 feet wide, so if you have 19-inch seats all the way across, and you instead do 20-inch seats, you basically lose one seat per row," Joyner says. "If your lower bowl is 15 rows and you've got 20 sections, you're losing hundreds of seats. And every seat is related to every event, so when you're talking about a municipal arena like the Oklahoma City Thunder has, it's about how that seat sells not only for every Oklahoma City Thunder game, but every concert, every Disney on Ice, every evangelical prayer group. It's probably 200 events a year. It adds up to hundreds of thousands of dollars in lost revenue. But the other math is you can charge more for a 20- or 21-inch premium seat."
Treads that define the depth of rows have likewise changed with time, from a cramped 24 inches in some decades-old venues to today's standard 33 inches. "Think of some of these older stadiums that have short tread depths, people sitting on benches, squeezed together," says Nate Appleman, global director of Kansas City, Mo.-based HOK's Sports + Recreation + Entertainment practice, which completed renovations of the University of Washington's Husky Stadium and Southern Methodist University's Moody Coliseum in 2013. "The minute you want to provide them with a more modern and comfortable seating experience, then you're naturally looking at some reductions to the same seating bowl area. It doesn't matter if it's professional or collegiate."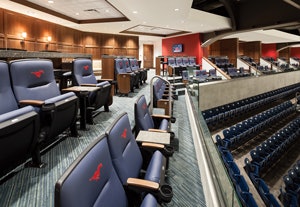 At Stanford University, which made industry headlines in 2006 when its football stadium underwent a complete rebuild that saw capacity plummet from 85,500 to 50,424, bench seating throughout was replaced by benches with chair backs, and — in higher-priced sideline sections — individual chair-back seats with armrests. Removal of a track surrounding the field and the layering of the upper bowl over the lower bowl has also greatly improved the fan experience.
It also has enhanced Stanford's ability to more strategically price and sell its seats — from family season-ticket packages to a priority-seating program. Whereas the school typically sold out its stadium once every other year (when hosting Cal), the Cardinal has witnessed eight sellouts among 13 home games played over the past two seasons, with the balance of games nearly selling out. A majority of games are expected to sell out this fall, according to senior associate athletic director Kevin Blue, who oversees ticket sales. "Fans in the entire stadium are much closer to the field, so it vastly improves the way that everyone's able to watch the game," Blue says. "At the end of the day, industry-wide, schools are having to create much more compelling experiences for people to attend games, given the dynamics of the television experience and other alternative entertainment options. So I think schools that are doing stadium renovations are thinking of ways that the experience of each person who does attend the game can be enhanced to the greatest extent possible."
"The culture has shifted to more of a quality over quantity approach," says Appleman. "It's so much more about the experience that buildings need to modernize to mimic that trend. So you do find that not only is the introduction of premium seating a contributor to the seat-count reduction, but also the realization that, 'Hey, we don't need 12,000 seats in this building. We need to be at about 9,000. That's a much more comfortable number for us to showcase a largely filled or sold-out bowl throughout the year, but also with the introduction of the premium seating, we haven't lost anything. All we've lost are the seats we couldn't sell, and we've created a much more difficult ticket in the process.' "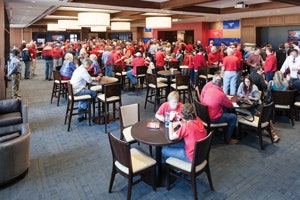 GETTING IT RIGHT
Regardless of how grand the original vision was, renovation allows poorly sized spectator venues to find their seating-capacity comfort level. "A lot of the arenas that I renovate got it wrong," Joyner says. "For instance, Richmond, back in the '70s, built an arena of 9,000 seats. Their student body is 3,500 people. They hadn't had a sellout in 15 years, and all the seats were 19 inches. They had this big arena with way too many seats, and they were all tiny. So somebody got that wrong. And one of the things we did when we renovated that arena was we expanded seat sizes, and we took a lot of the seats out that were the undesirable seats in the upper bowl and created these platform clubs."
Following the Robins Center renovation's debut in 2013-14, average home attendance for Richmond men's basketball increased from 5,960 the season before to 6,102 — the largest average the Spiders had seen since the 1997-98 season. More important, men's basketball revenue in 2013-14 shot up 31 percent.
Meanwhile, more fans in fewer seats resulted in a home-court atmosphere that has become the envy of visiting teams. "I wish we had a home crowd like that," University of Miami guard Sheldon McClellan said after the Hurricanes edged Richmond in an NIT quarterfinal game at the Robins Center in March. "That crowd was fantastic."
The results have even surprised Joyner. "It was just amazing how — with a few small things — it seems as though the people were affected," Joyner says. "We changed the architecture, but somehow changed the way people behave."
---
This article originally appeared in the June 2015 issue of Athletic Business with the title "LESS IS MORE"