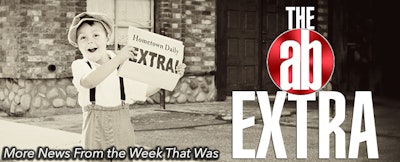 This week's AB Extra features controversy over a future Olympic stadium, Duke's Coach K's secret Twitter account and a new technology that will be used in Major League Baseball based off of video games. 
---
Criticism Over 'Bike Helmet' Shaped Olympic Stadium

Even though the summer Olympics in Japan are still five years away, the country is facing major backlash over the design of the new 80,000-seat Tokyo stadium. 
It's been likened to a bike helmet, a spaceship and a turtle and almost every major Japanese architect has criticized the design, made by architect Zaha Hadid. 
Criticism has gone past the design, as well. The first design, which has since been refined, cost $2.4 billion. The original price tag was twice the allocated amount for the stadium, which many thought wasn't a good choice for a country still dealing with the aftermath of a major earthquake and tsunami. Additionally, a public housing project will have to be torn down so the stadium can be built. 
The stadium will hold the 2019 rugby World Cup final, will serve as the venue for the opening and closing ceremonies for the Olympics and will host all of the Olympic track and field events.
---
Rappelling Down a Building to Raise Money for YMCA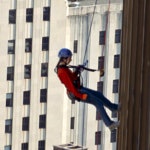 What heights would you be willing to go to in order to participate in a fundraiser? Some people in Duluth, Minnesota will be rappelling down a nine-story building in the city to raise money for the Duluth Area Family YMCA.
To be eligible to rappel, participants must raise $1,000 and pay a $50 registration fee. They will be lowered down the Sellwood Building by rope-trained professionals from a company called Over the Edge, which uses these rappelling events to help fundraisers. 
The rappels will take place during the Sidewalk Days event and have been taking place during the event for the past several years. This is the first year the Duluth Area Family YMCA will receive the money from the fundraiser. 
According to Katie McBride, the marketing director for the Duluth Area Family YMCA, "The money is going to go towards youth programing, things like getting new programs for our youth, getting youth to be able to have memberships or camp scholarships, and for Mentor Duluth to be in the schools. So it's really going towards the youth here in the community."
---
Scary Mascot for Scottish Soccer Team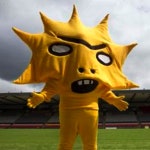 Fans of Partick Thistle F.C. might be in for a bit of a shock if they happen to see the team's new mascot Kingsley at a game.  
The new mascot came after the team signed a sponsorship deal with US investment firm Kingsland Capital. It was designed by artist David Shrigley, the new mascot and revealed to the public earlier this week, leading to thousands of comments on social media sites.
The original tweet introducing Kingsley has amassed nearly 4,000 retweets on Twitter.  
According to Shrigley, "He represents the angst of being a football fan – which anyone who has supported Partick Thistle over the last few decades understands."
It's not entirely clear what the mascot is supposed to be, it's been compared it to a very unusual looking sun while some say it resembles a Simpsons character. We'll let you be the judge
---
Duke's Coach K Has Secret Twitter Account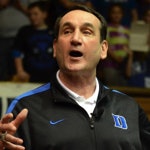 You won't find Duke University's men's basketball Coach Krzyzewski on Twitter under his real name, but he says he does have an account under an alias so that he can monitor his players on the social media site. 
Coach K says he doesn't care about having his own official Twitter account or having thousands of followers, but he does care about what his players are tweeting. 
"I tell my guys I'm following you. Then if I see something, you text them, you gotta watch. But there are a lot of cool things that they do. I do like that they do it."
It's no secret to his players that he does this says Former Duke player Jahlil Okafor. "Everybody knows. When we're on the bus, we always see his phone. He has the words really big. So we don't know his Twitter name but we know he sees us on Instagram, we know he sees us on Twitter."
Hopefully Coach K has passed along our blog post on the 9 Social Media Dos and Don'ts for Student-Athletes to his players!
---
New App Is 'Tinder for Athletes'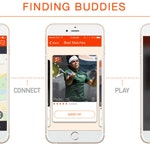 A Miami-based startup is building a new app called Sportsbuddy, which will match people in the same area based on their relative skill in a particular sport or physical activity, such as yoga. 
After creating a free profile on the app, you select a sport to play and the "smart matching" technology suggests people who are nearby and are at a similar skill level. Once you invite someone to play, you can chat through the app to decide where to meet. 
After meeting, users rate their match. This information is kept confidential but is used to better match people in the future. 
There are currently seven sports categories including tennis, golf, soccer, yoga, running, basketball, gym and an "other" option. More will be available soon. 
---
New Technology Could Give Insights Into Pitchers' Mechanics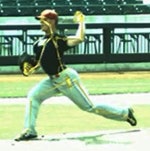 Michael Eckstein was at a business lunch with executives from the Philadelphia Phillies when he got the idea for Kinatrax, a technology that uses cameras positioned throughout a ballpark to capture the pitcher's motion and produces biomechanical data on the pitcher's form.
Eckstein based the technology off of the Microsoft technology called Kinect, which is a motion-capture system used in conjunction with XBOX 360 that allows users to control video games with their movements. Eckstein wanted to use this same idea but in a larger format to capture a pitcher's motion during games to understand the mechanics they use to throw the ball. 
The technology, which uses ultra-high speed cameras, was successfully tested at the New York Mets' Citi Field while the team was away playing games. The Tampa Bay Rays will be the first team to use the technology at their stadium during a game. 
The Kinatrax generates thousands of data points that can give insight into a pitcher's form and may also predict who might be at a greater risk for injury based on how they throw. 
Check out a video of the technology in action below.
KinaTrax MLB Pitch Side Analytics.avi from KinaTrax on Vimeo.
Check out the AB Extra from past weeks: 
June 19
June 12
June 5