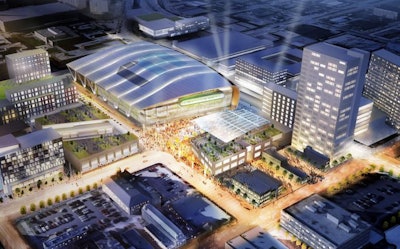 It looks like the Milwaukee Bucks will be staying put. After two days of negotiations, state senators in Wisconsin have finally struck a deal to finance a new arena for the Milwaukee Bucks, putting to rest speculation that the team might move to a new city.
The Senate approved $250 million in public subsidies for the $500 million arena, though the true cost to state, city and county residents will be $400 million when accounting for interest over 20 years. The other half of the funding will come from the team's current owners and former owner Herb Kohl.
The measure, passed with a 21-10 vote, will now go to the Assembly, but no date has been set for an Assembly vote.
A 12-page amendment was part of the proposal that senators adopted before approving the measure. The amendment dropped a requirement that Milwaukee County turn over its debt collection program to the state and instead, state aid to the county will be reduced by $4 million a year to cover its portion of the arena. Additionally, there will be a $2 surcharge on all tickets at the BMO Harris Bradley Center. Of that surcharge, $1.50 would go to the Wisconsin Center District and $0.50 would go to the state.
The state's portion of the surcharge would give it approximately $500,000 a year to help the state cover the $4 million that it would be required to contribute to the arena.
The center district is responsible for operating the Wisconsin Center convention facility, Milwaukee Theatre and University of Wisconsin-Milwaukee Panther Arena. The amendment calls for a new board to be put in charge of those facilities in addition to the new Bucks arena and the Marcus Center for the Performing Arts.
FROM AB: Milwaukee Bucks Unveil First Renderings of New Arena