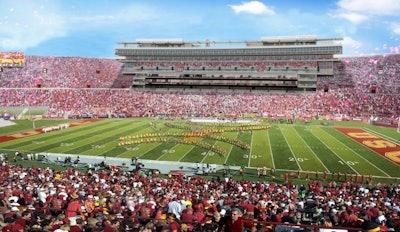 Late last week, the University of Southern California announced plans for a privately funded $270 million renovation of Los Angeles Memorial Coliseum.
According to the press release, the project still needs approval from the Coliseum Commission. But if it's approved a full project launch will be announced in the spring of 2016, with construction slated to begin following the 2017 football season. The Trojans would continue to use the stadium during the 2018 season.
The improvements to stadium seating and aisles would reduce seating capacity in the Coliseum, from 93,607 to approximately 77,500. Other renovations included in the plan include building new suites, a new concourse and a new press box, installing new lighting, and improving Wi-Fi, video and audio technology throughout the building.
"We are committed to providing our players, coaches and fans with one of the best facilities in the nation," USC AD Pat Haden said in a statement. "This needed renovation to a stadium built in 1923 will ensure that the game-day experience gives all fans options to enjoy the stadium's new amenities while recognizing the loyalty of our long-time fans. It also will provide our football team with a first-class facility and a home field advantage."
Under USC's lease agreement with the Coliseum Commission, USC is required to invest $100 million toward stadium improvements by 2054, including $70 million over the next 10 years. The proposed plan far exceeds those requirements, and is expected to be approved by the commission.