This article appeared in the January/February issue of Athletic Business. Athletic Business is a free magazine for professionals in the athletic, fitness and recreation industry. Click here to subscribe.
The YouTube clips seem to pop up as quickly as the storms that spawn their subject matter. Grounds crew members attempting to control field tarps billowing in high winds — some workers being dragged along the edges of what amounts to a 28,000-square-foot sail, while others get swallowed up in a sort of polyethylene version of "The Blob" or trip and fall only to be covered like the very baseball dirt and turf they are charged to protect.
Since 2013, there have been problematic tarp-related incidents at Major League Baseball parks in Detroit, Chicago, Baltimore, New York, Texas, Philadelphia and Pittsburgh, where last July the Pirates' All-Star outfielder Andrew McCutchen and several teammates left the relative safety of their dugout during a storm to assist grounds crew members — one of whom became completely enveloped by the wind-whipped field cover.
And the frenetic pace at which grounds crews are often pressed into duty can lead to other mishaps. The Kansas City Royals have seen two grounds crew members run over by Kauffman Stadium's tarp roller within five years, including this past October during Game 1 of an American League Division Series, prompting Fox Sports analyst Pete Rose to joke as the tarp was deployed during a third-inning rain delay, "Three people died in there."
For those whose job it is to race into the wind, rain or lightning — or any combination thereof — just as players, officials and fans scramble for shelter, safety is no laughing matter. In the wake of the Pittsburgh incident last summer, former Baltimore Orioles head groundskeeper Paul Zwaska called for action.
"Wouldn't it be nice for Major League Baseball and other levels of the sport to set a policy to allow crews to have a little more control of when to put the tarp out ahead of a storm in game situations in order to protect the crew?" asked Zwaska, writing for ball field equipment supplier Beacon Athletics, where he serves as director of education and strategic initiatives.

BRACING FOR THE STORM
Safety concerns aren't limited to the big leagues. At the NCAA level, schools are required to clear a baseball field if lighting is detected within an eight-mile radius, and some err on the side of caution beyond that policy's parameters. During a 2013 Super Regional game at Louisiana State University's Alex Box Stadium, Eric Fasbender was tracking an approaching storm. "Wind gusts of 40 miles per hour, lots of lightning — hell was basically coming at us," LSU's assistant director of athletic fields recalls. "Along with the NCAA, we made the decision that we're not going to wait until the eight-mile rule. We're actually going to tarp the field and secure the tarp early before everything gets here. As it turned out, the storm broke up and we ended up getting barely a sprinkle."
Then there was the regional game last season during which a storm shifted course and intensified, catching Fasbender's crew completely by surprise. "All of a sudden, we got hit with a wall of water, and we had to flip the tarp continually over to get it onto the field," says Fasbender, who considers the field at Alex Box among the nation's best in terms of drainage. "We took almost an inch of rain in 15 minutes, and we were able to get back playing in about an hour and a half."
Between those extreme examples lies every groundskeeper's tarping dilemma — when best to deploy in any given situation. "It's always a delicate balance, especially when you're dealing with umpires and coaches, and you've got anywhere from 3,000 to 7,000 people who sit in the stands here for one of our baseball games," says Texas A&M assistant groundskeeper Nick McKenna, who oversees the baseball program's Blue Bell Park. "It gets to be a tricky subject sometimes, because you want to do everything you can to keep play going and ensure that the game is completed, but at the same time I have to look out for my crew and make sure nobody's injured or struck by lightning. There have been times I've pulled the tarp out because I was concerned about getting it on or losing it in the wind, and we didn't see a drop of rain. It's always easier to look stupid for pulling the tarp and not getting rain than it is to get caught in the wind or get hammered by rain and not have it on."
Many storms are preceded by what's called a gust front — rain-cooled air that's pushed out of the storm itself. As Fasbender points out, baseball is played in wind, so tarping to beat an advancing gust front in the interest of grounds crew safety is a tricky decision. Waiting to deploy until rain is falling can add hundreds of pounds of weight to the tarp and slow considerably the entire field-covering process — which should take less than two minutes under more-favorable conditions.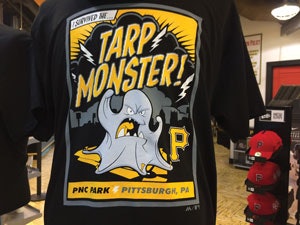 Once the decision to deploy is made, there are even more safety considerations:
• Tarp handles should be gripped, as opposed to threading the entire hand through the handle and wrapping it around the wrist (a technique used by some crew members to increase pulling power). "You're locked in at that point, so if there's a wind gust that comes up, you're now a part of the tarp," Fasbender says. "If it gets blown 30 feet up in the air, you're going with the tarp 30 feet up in the air. And when it lands, you're landing at whatever speed that is." (Some tarps on the market are designed with handles short enough to prohibit this wrist-wrapping technique.)
• The tarp should be pulled low to the ground. A little air underneath can actually float the tarp and make it easier to move, but too much wind will turn it into a sail. Wind speeds exceeding 20 miles per hour can start to pose handling concerns, according to McKenna.
• Crew members should keep arms and legs bent throughout the pulling process to avoid joint injuries.
• Once positioned, the tarp should be pulled taut and staked using 12-inch stakes deployed through the tarp's grommets (more than 60 in most cases) and sunk at a 30-degree backward angle. Recent tornadic winds at LSU actually pulled stakes out of the ground and launched them into the stands, which fortunately were empty at the time. Alternatives to staking include sandbags or, as McKenna can attest, parking utility vehicles on the windward side of the tarp in extreme conditions.

READY FOR TROUBLE
Times of trouble bring additional tips. "If we start to get pulled, the first thing I tell crew members is just drop to the ground with it, lay on it, and we'll try to work a bubble out," McKenna says. "If we get into further trouble, if it starts to drag you and you get into a panic mode, then I tell them to just let go. Replacing a $7,000 tarp is a lot cheaper than dealing with whatever medical injuries we might have. Fortunately, we've never gotten to that point. We were pretty darn close last spring."
During a delayed April 18 game against Arkansas, 10 A&M grounds crew members — mostly student volunteers — were dragged 15 feet across the outfield grass. "It took 20 extra guys from the team sprinting out of the dugout to save us," McKenna says. "It took 30 of us to get that tarp pulled out and then held in place long enough for us to stake it down in the wind."
It was a scene that would be repeated three months later in Pittsburgh. The stakes are particularly high at the MLB level, where money tied up in ticket sales and pitcher's arms makes rain delays and postponements particularly vexing for umpires, who make the call to tarp or not to tarp once a game has started. "I'm lucky because I have the NCAA policy to work off of," McKenna says. "Major League Baseball has no policy in place."
Fasbender likewise appreciates the decision-making cover provided by the NCAA. "If we have a lightning strike within eight miles, we will deploy the tarp regardless of whether or not it's raining, because where there's smoke, there's fire. Where there's lightning, there's a thunderstorm," he says. "We're not going to wait until it starts raining to deploy the tarp and risk having that storm right on top of us. We're going to deploy it right when it gets inside that eight miles, so that we can get it secured and then get our crew to safety."
After all, he adds, the goal of a groundskeeper is twofold: "Our job is to preserve the field and preserve ourselves."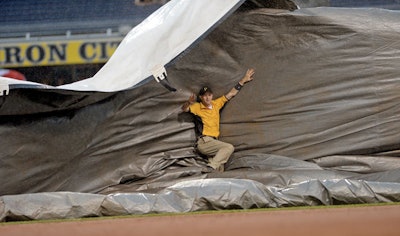 What can go wrong?
Oct. 8, 2015
A grounds crew member gets caught underneath the tarp roller at Kauffman Stadium during a rain delay in Game 1 of the Kansas City Royals' American League Division Series against Houston.
July 7, 2015
Andrew McCutchen and other Pittsburgh Pirates come to the aid of a grounds crew member who disappears while stepping across the windblown tarp at PNC Park, then help pull the tarp into position and secure it to the field.
Aug. 8, 2013
A veteran Philadelphia Phillies grounds crew member tending to the pitcher's mound cover is toppled as the full infield tarp is dragged over him, forcing him to crawl out from underneath with assistance.
---
This article originally appeared in the January/February 2016 issue of Athletic Business with the title "Safe tarp handling: protecting both field and grounds crew"