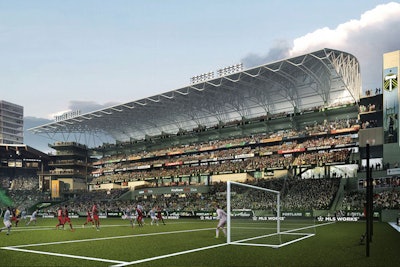 Providence Park, home of the Portland Timbers MLS franchise, is set to receive a big upgrade under a proposed $50 million expansion plan.
The facility, originally built in 1926, has hosted several sporting events in its 91-year history, but is now best known as one of the most raucous venues in MLS. The expansion will make it even more so, adding 4,000 new seats according to a release.
Proposed designs by Portland-based architecture firm Allied Works call for a 93-foot covered structure on the east side of the facility. Reminiscent of London's Globe Theatre, the facility would feature upright vertical seating and put fans on top of the action. In addition, the design would complete the stadium's U-shape, which had been originally envisioned in 1920s designs.
By adding 4,000 seats, the venue's seating capacity will increase by nearly 20 percent — growing from its current capacity of 21,144 to over 25,000. This means more opportunity for the team's fans, who have sold out every Timbers regular- and playoff match at home since the team's first MLS season in 2011. The Timbers boast a season-ticket waitlist of more than 13,000 people.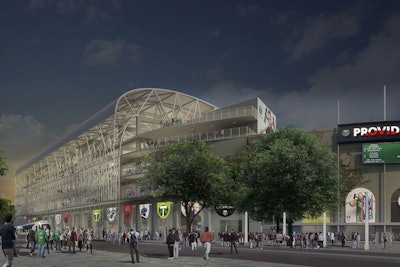 "With our proposed expansion, we will enhance the incomparable fan experience and intimacy and provide the opportunity for some of the more than 13,000 members of the waiting list to become season ticket holders," Timbers president of business Mike Golub said in the release.
The cost of the expansion will be covered by private funds, meaning no taxpayer money will be used. Construction is expected to occur over two offseasons, and be finished by either the 2019 or 2020 MLS season.