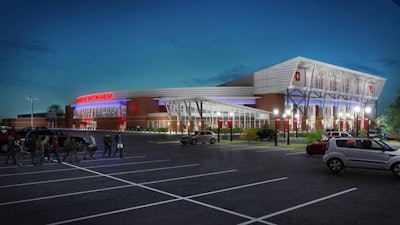 On Thursday, the University of Dayton announced that approval has been given by the university board of trustees to begin work on a $72 million arena renovation.
Funded privately through a combination of philanthropy, corporate sponsorship, ticket revenue and a variety of public and private partnerships, the project is expected to be completed in 2019 and will be staged in three phases to minimize disruption.
The university does not expect construction to prevent the use of the arena for upcoming basketball seasons or the NCAA First Four, which Dayton is scheduled to host through 2022.
In addition to men's and women's basketball, the University of Dayton Arena is also home to high school tournament games, international championships, seminars and community events, as well as the school's graduation ceremonies.
In a press release, University of Dayton president Eric Spina said, "UD Arena is special to the University community for far more than just basketball. The transformed arena will enhance those special events that mark important milestones in our students' lives."
The University of Dayton Arena will celebrate the 50th anniversary of its grand opening in 2019 and, at some point during the renovation, it will welcome its 10 millionth guest.
Said Dayton athletic director Neil Sullivan, "For it to serve the community and as the home for Flyers basketball – as well as NCAA Tournament games – for the next several decades, it requires a bold, significant upgrade."
The renovated facility, by architect of record Hastings+Chivetta of St. Louis and design architect Sink Combs Dethlefs, will maintain the arena's current seating capacity while encompassing new features that were identified as a priority to the university community.
"We surveyed our fans, season-ticket holders and donors. We talked to people in the community and on campus. We consulted with industry leaders and experts," said Sullivan.
"The soul of the arena will be maintained for all the reasons you have always enjoyed its at-home atmosphere. Yet at the same time it will feel like a new arena when construction ends in the fall of 2019.
"This signals a continued investment in our basketball programs and another step toward continuing to position Flyer basketball teams on a national level."