The oldest of the six venues used by Canada to host the 2015 FIFA Women's World Cup, TD Place Stadium underwent a renovation a year earlier that redefined its presence within a varying context — urban on one side, natural on the other.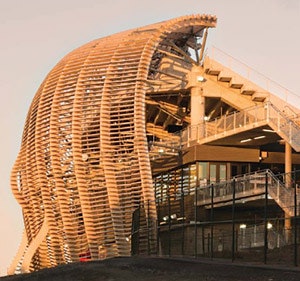 The renovation's signature element addresses the latter. "The Veil" — so called by architects at CannonDesign — is a towering, undulating timber shade canopy made of Alaskan yellow cedar glulam that cantilevers over the top edge of the stadium's upper deck and press box while supporting its lighting and sound systems. Consisting of hundreds of horizontal slats supported by 24 curved beams rising from their own foundation, the structure softens the side of the stadium that addresses Rideau Canal while paying homage to the waterway's logging heritage. It also serves to define a covered circulation path along the stadium exterior. "We wanted to come up with a concept that allows some porosity in the structure, so light and air could come through," says CannonDesign's Robert Fatovic, the structure's co-creator. "And because it was a park-like setting, wood was the natural material that we wanted to use." As home to the Canadian Football League's Ottawa Redblacks, TD Place Stadium will host the 2017 Grey Cup, the CFL championship game, in November.
---
This article originally appeared in the July | August 2017 issue of Athletic Business with the title "Design Details: Veiling a stadium exterior in wood" Athletic Business is a free magazine for professionals in the athletic, fitness and recreation industry. Click here to subscribe.