Hailed as "the South's preeminent lifestyle destination," The Battery Atlanta houses hundreds of high-end residences, dozens of fashion retailers and conceptual eateries, one luxury hotel and a theater bearing an iconic name. It's blocks of brand-driven streetscape long on curb appeal.
Not lost in any of this is the baseball.
The Battery is anchored at one end by the Atlanta Braves' new SunTrust Park, and rising some 30 feet above the barrage of corporate marketing outside the stadium's right field gate is a gigantic digital baseball featuring LED-illuminated red laces and a seven-foot-tall, nine-millimeter pixel pitch messaging system that wraps around the ball's 69-foot circumference. The display shares sponsorship messaging, Braves fan-engagement content and livestreamed video of the game itself to fans gathered in the plaza-like setting, complete with a fountain and green space.
When immersed in this atmosphere, it's understandable if fans forget the controversy that surrounded the Braves' move from Turner Field to this location in Cobb County. "I think it was just a real opportunity with the Braves to create a whole new place and experience for their fans, and they're utilizing that new open space," says Joé Lloyd, director of global marketing at NanoLumens, which provided the digital technology driving the baseball signage and other corporate branding displays outside SunTrust Park. "Now fans have the opportunity to make their way to this destination and spend as much time as they'd like. There's a whole reason to be there and really spend a whole day with their families."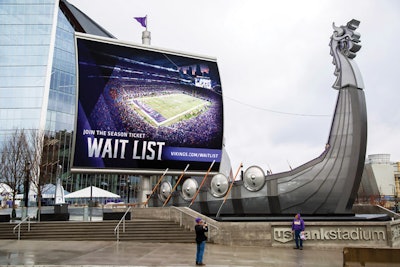 Sail's pitch
Digital signage has emerged as a fresh — and refreshable — force in the sports facility branding game.
To further appreciate how far stadium signage has progressed, head north from Atlanta to Minneapolis, where U.S. Bank Stadium has replaced the Metrodome as home to the Minnesota Vikings. Where only a few years ago the Metrodome relied on a messaging board left over from the 1980s — limited to sharing upcoming event information and not much else — now stands the Legacy Ship, a replica Viking vessel, its menacing figurehead looming over pedestrians and the cemented name of the stadium's title sponsor.
But the feature that commands immediate attention is a 42-by-40 foot LED message board featuring a five-foot curvature to simulate the ship's mainsail. "On gameday, they want to draw fans to it. They want to get them into that area, and that's one of the ways they do it," says Alex Ohm, who served as project manager for the installation of not only that Daktronics-manufactured board, but another mounted directly on the stadium's exterior.
The boards push plenty of U.S. Bank branding to be sure, but, Ohm adds, "On gameday, the Vikings have stuff that's going on around the stadium playing up there in real time. You'll see people who have taken pictures and uploaded them, and their pictures are up on the board, and they're trying to get a selfie with the board and themselves in their picture. It's all about fan engagement."
Both boards posed installation challenges, Ohm admits. Not surprisingly, 1,680 square feet of electronics designed to simulate a ship's sail is a potential wind-load nightmare. Add to that the architect's desire to mount the board on a single mast to further enhance the nautical aesthetic. All electrical wiring had to be fed through the custom-made pipe that was tapered too narrow to fit a human inside at one end and sunk some 45 feet into the ground at the other, to the point it nearly hit bedrock.
The other board, while flat, is of an irregular shape and affixed to one of the stadium walls that cantilevers out like a ship's prow. The display itself is 70 feet tall, and another 110 feet separate its bottom edge from the ground below. "Those two displays were the most challenging installs that I've been a part in my 10 years [at Daktronics]," Ohm says, but without a hint of regret. He was so impressed by the atmosphere created outside U.S. Bank Stadium, which includes a year-round waterfall, he purchased a legacy brick in the plaza itself. "It's not enough to have a big square screen anymore. Now it's more about the cool factor, and U.S. Bank stadium has that in those two displays."

'Flippable' spaces
Of course, another cool thing about digital signage is its instant adaptability. Back in Atlanta, Mercedes-Benz Stadium is being built to house both the Falcons and Major League Soccer's Atlanta United. In the days of static signage, banners and the like, branding for all of a building's occupants had to coexist, with one or more teams often marginalized visually.
The brand-experience architecture firm that is building out most of the stadium's sponsorship areas — 31 to be exact — has been directed to make each space "flippable," as Dimensional Innovations principal and practice director Justin Wood puts it.
"For instance, when AT&T or The Home Depot are telling their brand story in their space, it ties very cleanly to whatever's happening that day," Wood says. "If it's an Atlanta Falcons game, you feel like you're in the Falcons' stadium. If you are at an Atlanta United game, you feel like you're at a soccer game. Heavy utilization of video board technology makes that possible."
Three main concourses at MBS accommodate these gathering spaces, with some of the sponsored areas more expansive than others. The AT&T space carries a sports-book ambiance, heavy on tech, with content changing constantly over the course of a season. Says Wood, "One of the things we really spent a lot of time thinking about was what this experience is like for the season-ticket holder who comes back here eight times a year or 20 times a year, and how we make sure that the content and the experience is dynamic and fresh and makes people want to come back and experience this place over and over again."
As artful as some static signage can be, it's often not up to such a task. "As opposed to static graphics, motion graphics have the ability to draw you in and really immerse you in an experience," Wood says.

Two-way interaction
In addition to marquee-like messaging systems high above, digital signage offers unparalleled branding opportunities at the pedestrian level, where a venue's visitors may be encouraged to physically engage with the technology. "We do a lot of touch-screen interactive displays, which are intended to be touched — and touched by large, sometimes unruly crowds that attend sporting events," Wood says. "The stuff is built to handle wound-up masses of people."
These masses can be exposed to vintage game clips, current player statistics or real-time social media communication, among other content, with the user directing the display. "Touchscreens are a great way to do storytelling, so we often will incorporate hall-of-fame experiences — lots of names and the data behind the names and video clips behind the players," Wood says. "All of that can be built in and incorporated into a digital environment where it's infinitely searchable. Again, we can keep the content really fresh so it changes on a game-to-game basis. We do these in game-focused venues, and we also do them in practice facilities. On the collegiate level, they're incredibly valuable as training aids and during the recruiting experience, and we've done recruiting experiences for NBA and NHL free agents, just as a way to help tell the team's story and heritage."
Digital signage can also enhance the experience of a venue's current athlete inhabitants. The football locker room at Texas A&M University features 123 lockers, each with two screens capable of communicating individual stats, training regimens or academic class schedules, as well as messages that address all team members at once. "It's like a Jumbotron for your locker," says John Hamari, CEO and designer at Facility Source, which developed the A&M locker room brand strategy. "It has a lot of content that you customize to either synch and work as one message, or you can have it function individually. It has this great ability to change as things change."
That includes changing for recruiting visits. "You can take the content from an individual recruit and customize it within the boundaries of what the NCAA allows so that a 17- or 18-year-old walks out thinking, 'Wow, this is incredible,' " Hamari says.
While the A&M locker screens represent a one-way channel of information, Hamari sees such installations becoming increasingly interactive. "When the first iPhone came out, everything quickly followed that platform and now every recruit who's walking through basically has the touchscreen mentality, so having interactive media in your facility goes along with where they're already at," he says. "It's all about the recruit and centering the experience around something they're already familiar with."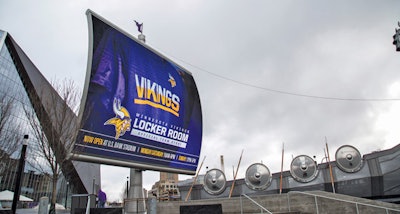 Can't-miss experiences
That said, unique message delivery — as witnessed in Minneapolis and Atlanta — can be its own draw. "In 2017, I always say it's a blank canvas," says Ohm. "You can do with it almost anything that you can imagine."
Imaginative branding using today's digital signage technology is just a means of driving attendance to live sporting events — but an important one. Of the Braves' baseball signage, Wood says, "Taking it in the round like that makes the content something you just can't get at home. It's that truly different experience that makes you want to get off your couch and go experience the venue."
But being there is only the beginning. Adds Wood, "Fans today are expecting to not just respond to the building but have the building respond to them — to have it really be a two-way relationship — and technology is definitely a way to do that."

Alternative messaging modalities
Digital signage is a great way to communicate the brands of a sports building, its sponsors and occupants — and it can take many forms besides an LED screen. Here are a few atypical delivery systems:

Transparent monitors
Messaging on a clear screen allows digital content to be superimposed against a physical background. For example, a blank mannequin positioned behind a transparent monitor can appear to be wearing a team's various helmet and uniform combinations, as they are presented digitally. "It's kind of what you would traditionally think of as a monitor in terms of showcasing content, but it's transparent, so you can put built elements behind it," says Dimensional Innovations principal Justin Wood.

Wall projection
Content can be projected onto a wall with all the changeability of an LED screen. Dimensional Innovations employed this type of system in a Mercedes-Benz Stadium space dedicated to stadium partner Equifax. "We were able to tone down some of the ambient light in the space, and we had these massive walls that are incredible canvasses for projection," Wood says. "It's a combination of Equifax branding, as well as heavy Mercedes-Benz Stadium, Atlanta Falcons and Atlanta United branding."

Water curtains
Walls too static? How about cascading water? Programmable water curtains can communicate images and text through a combination of timed valve releases and lighting effects. "You can change your messaging on the fly. It's as fluid as changing a Word document," says Facility Source CEO John Hamari. "It's a good example of something unique that can help set apart a venue, a brand, and really create a one-of-a-kind experience."

---
This article originally appeared in the July | August 2017 issue of Athletic Business with the title "Sign of the Times" Athletic Business is a free magazine for professionals in the athletic, fitness and recreation industry. Click here to subscribe.