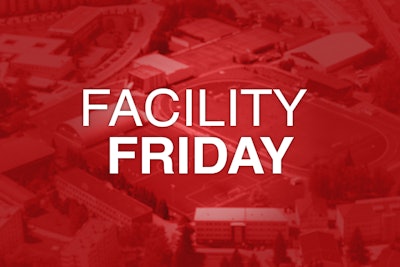 It's another #FacilityFriday! We're rounding up the facility updates and news that we spotted throughout the week.
First up, the University of Texas announced a request for proposals for an on-campus basketball arena. University president Gregory Fenves announced last Friday that the project could potentially land in two locations: just south of the schools track and field/soccer stadium on what is currently a parking lot, or just south of the football stadium. The project is expected to cost between $350 and $450 million, and the school hopes to have construction plans finalized by September. — Source: hookem.com
ALSO NOTICED some new branding and graphics at the school's baseball facility.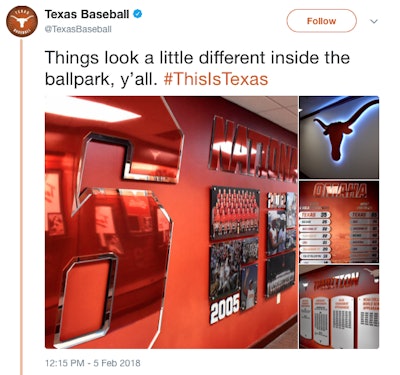 Central Michigan announced that it had chosen architecture and design firm Populous to take the lead in designing its new Chippewa Champions Center. The project, which will be located at Kelly/Shorts Stadium, will be a multipurpose space, with amenities for student-athletes, non-athletes and alumni alike. Current plans feature a new football locker room, a rehab center, a nutrition center, team meeting space, a weight room and football offices — but the facility will be used throughout the year, and will also feature an alumni center and general meeting space. — Source: umuchippewas.com
Next up, we look at Air Force's Falcon Stadium. The renovation project continues into phase two, which began immediately after the football season. This phase of the project includes updates to locker rooms, including a renovation and expansion of the home team locker room and additional auxiliary locker rooms. — Source: GoAirForceFalcons.com
LSU announced this week that it would be getting a beach volleyball-specific facility by September of 2018. The outdoor stadium will feature six sand courts, and be used for both practice and competition. The beach volleyball program had been playing at a facility called Mango's Beach Volleyball in Baton Rouge, and will continue to do so as the new facility is under construction. — Source: LSUSports.net