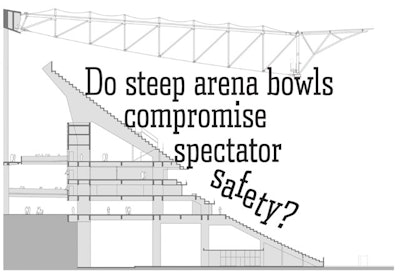 The Bell Centre in Montreal is known as one of the NHL's most intimidating venues for visiting players, mainly due to a large lower bowl and steep upper-bowl seating. In fact, Detroit Red Wings general manager Ken Holland stated that from a player's perspective, this type of design makes it seem like "everybody is on top of you."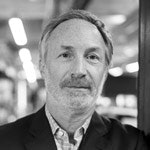 In addition to the home-team advantage the design provides, it also gives fans better sightlines to the action and lets them feel more engaged in the event due to such close proximity. This is an increasingly important factor, as in-person attendance for sporting events continues to decline and ownership groups seek new solutions to provide a better live experience.
But that proximity carries a potentially steep price. Fan accidents at the 19,000-seat Barclays Center in Brooklyn, N.Y., have led to at least four lawsuits resulting from fans tripping and falling in the arena's steep upper bowl. More commonly, fans attending events at arenas with steep stairs complain of experiencing vertigo. Looking up at seemingly endless rows of seating can make fans feel as though they are falling.
These types of incidents have raised some serious and difficult questions. At a time when owners and their architects are facing mounting pressure to improve the fan experience to halt and reverse dropping attendance rates, is there a way to prioritize both the fan experience and fan safety without compromising either?

Safe space
The short answer is yes, but it requires owners and venue designers to think creatively about new and unique solutions that evolve existing design elements in exciting ways.
Take the gondola seating in Detroit's Little Caesars Arena, which opened last September. This section features a suspended steel frame that hangs from the arena roof, giving fans, broadcasters and team personnel in the gondola an unobstructed bird's-eye view of the action.
This concept isn't all that new, however. It actually takes cues from Maple Leaf Gardens, which opened in 1931, as well as the Chase Bridge in Madison Square Garden. Maple Leaf Gardens featured a broadcast booth perched five stories up that was said to look "like the gondola of a cruise ship." When Little Caesars Arena was built, it incorporated this idea of a high-level vantage point, but evolved it into a separate seating structure that hangs from the roof rafters more than 90 feet above the playing surface.
As a safety measure, the gondola seating in Little Caesars Arena features clear Plexiglas barriers in the front row to keep fans secure, with waist-high drink rails performing the same function for fans in the back row.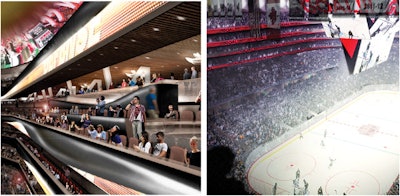 A new era of arena design
Other innovative architects and arena design professionals are going a step further and completely rethinking the traditional arena design.
Consider that even though stairs have gotten steeper, bringing fans closer to the action, the foundational principles of arena design haven't changed much in the thousands of years since Roman times, with seating progressively moving up and away from the playing surface.
With live entertainment competing with modern home-entertainment technologies that make the home viewing experience that much better, the in-person experience needs to give fans something they can't get at home.
One promising new model begins by upending some of the most basic tenets of arena design. Conceived as a way to preserve and enhance arena excitement while integrating the immersive qualities of an intimate environment, the inverted bowl is a proprietary concept that has been developed and tested over the past seven-plus years. The inverted bowl design solves the steep-upper-deck dilemma by doing something unexpected: it doesn't back away, it leans in — with revolutionary balcony seating that catapults viewers closer to the action. The result is broadcast-quality views that are up to 50 percent closer.
The inverted bowl doesn't just preserve fan safety — it prioritizes it. Larger landings and less crowding minimizes the chances of accidents and keeps fans away from edges — all without compromising viewing positions.
Typical inverted bowl design features four tiers, with each tier seating roughly 2,000 spectators in three rows of seating. Dividing the upper bowl into multiple tiers means guests will navigate fewer stairs to get into and out of their seats. This compartmentalizes the population, allowing for lower density on the concourses, which reduces the chance of panic and crowding in an emergency.
Additionally, a tier of only three rows greatly reduces the vertigo experienced in a steep upper bowl. A spectator seated in the last row of a typical 20-row upper bowl may have to traverse nearly 60 steps to get to their row, and then precariously sidestep in front of seated spectators to access their seat. By comparison, the number of steps in the tiers of the inverted bowl never exceeds 10, which is akin to a typical two-story residence.
A stationary seat with a swing mechanism secures patrons in their seats, and instead of walking in front of other fans to access a seat, individuals walk safely behind the swivel chairs, keeping passersby safely behind tall chair backs. This is achieved by designing each row to be 25 percent deeper than that of the typical upper bowl, adding an additional 12 inches of space for spectators to circulate comfortably. There has never been a bowl designed where fans step behind the seats — a solution that keeps both seated viewers and passersby safe and comfortable.
Concepts like this have the potential to inspire a new generation of arena design and a new era in live entertainment. As more venue designers look beyond traditional conventions to create novel — even unorthodox — venue concepts, the sky's the limit in terms of upper-level seating and fan engagement.
---
This article originally appeared in the April 2018 issue of Athletic Business with the title "Do steep arena bowls compromise spectator safety?." Athletic Business is a free magazine for professionals in the athletic, fitness and recreation industry. Click here to subscribe.