One design improvement to Portland State University's varsity basketball and volleyball venue necessitated another. Before the renovated Viking Pavilion reopened in April, it stood as a 1960s brick-faced shoebox along a main campus boulevard known as The Park Blocks.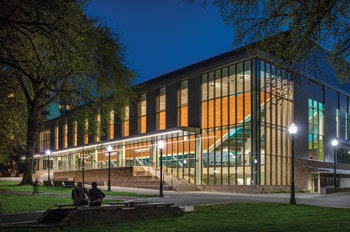 As part of the $52 million renovation, Perkins+Will, in collaboration with local firm Woofter Architects, created a glass facade along one end of the original rectangular footprint addressing the street. However, to keep daylight from penetrating the performance space and becoming a distraction for sports spectators and attendees of other events, Perkins+Will associate principal Lee Sterrett conceived an interior wood wall spanning the entire 200-foot width of the facility, standing 24 feet tall and separating a two-level entrance and concourse space from the 3,400-seat arena. Lengths of locally reclaimed Douglas fir were refinished, fitted, folded and shaped to subtly suggest the broadside contours of a Viking vessel, with an outward fold at the stern end anchoring a ticketing zone, and the inward taper at the bow opening up to the glass corner facing campus. "They're the Portland State Vikings, so we did some exploration about Vikings in general and things that would — without being literal — drive some imagination toward that athletic heritage," Sterrett says. "The wall's shape is reminiscent of the shapes you see in ship-building in a really abstract way, but it has functional elements, as well."
---
This article originally appeared in the July|August 2018 issue of Athletic Business with the title "Viking ship wall conquers decorative, functional duties." Athletic Business is a free magazine for professionals in the athletic, fitness and recreation industry. Click here to subscribe.