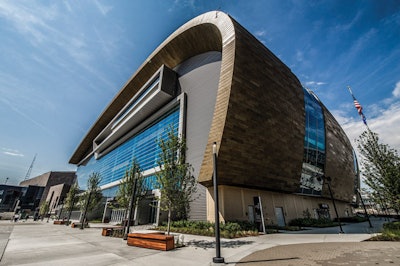 Simple design considerations can save lives.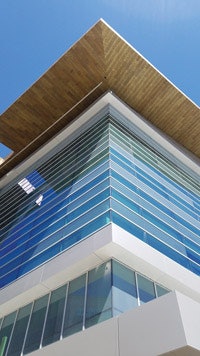 As the Milwaukee Bucks were breaking in Fiserv Forum this season, the first-year arena's heavily glazed facade spared countless birds from breaking their necks. "The exterior glass on Fiserv Forum is high-performing insulated glass that would be included in most buildings of this type. The difference is the treatment of the building exterior as a whole and how the combination of transparent and opaque surfaces can be seen by birds," says Heather Stewart, an architect and senior associate at Populous, pointing to frit patterns within the glazing as one avian savior. "It's a pretty simple strategy that was integral to the design very early." Earning the Bird Collision Deterrence credit helped land LEED Silver certification for Fiserv Forum, which has been hailed by the American Bird Conservancy as the world's first bird-friendly sports and entertainment venue. Moreover, ensuring the safety of winged visitors didn't require aesthetic sacrifice. "Reveals, shadows and relief in a facade both humanize the design and increase visibility for birds," Stewart says. "It really is a win-win."
---
This article originally appeared in the May 2019 issue of Athletic Business with the title "Bird-friendly facade lands 'world's first' status" Athletic Business is a free magazine for professionals in the athletic, fitness and recreation industry. Click here to subscribe.