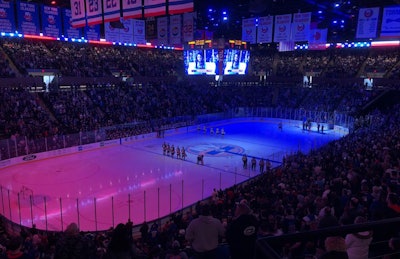 This content was provided by Eaton's Ephesus Lighting. What is sponsored content?
Ever since the New York Islanders left the Nassau Coliseum, their home of more than 40 years, for the Barclays Center in Brooklyn, there has been a clamoring among loyal fans that one day they would return. That day came on December 1, 2018 when the Islanders hosted the Columbus Blue Jackets for the first NHL game at the historic building since 2015. The game was the first of 22 such NHL games the team would play at the Coliseum during the second half of the 2018-19 season.
But for anyone who attended the final game in 2015 and a game this season, there were very few similarities other than ice, sticks and skates. That's because while the Islanders were gone, the venue — now known as NYCB Live at The Nassau Coliseum — underwent an 18-month, $180+ million renovation. Among the many changes was a more intimate atmosphere for hockey, with capacity reduced to just 13,917 as opposed to the 16,170 fans it held before.

Despite the massive renovation, when the idea of the Islanders returning to the Coliseum became a reality, everyone quickly realized that the venue's antiquated lighting system which included a combination of 1,000 watt quartz fixtures and 1000 watt metal halide bulbs would not meet the NHL's stringent lighting standards. That's when Frank O'Brien, Electrical Foreman for the venue, was charged with finding the best solution for the building.
---
LIGHT, REVOLUTIONIZED: View More From This Series
---
"There were really only two or three sports lighting systems that were worthwhile to consider and when I saw the new Ephesus Lumadapt fixture, I was confident that it would be good for the arena for a long time since it is upgradable," explained O'Brien. "The Lumadapt fixture offers RGB color, full color tuning and we can change the beam angle for every fixture. We can use them for basketball, hockey or any other event we want without bringing in a separate lighting system."


O'Brien's experience is common for facility operators at thousands of arenas, fields and stadiums of all sizes across North America that have already made the switch to a solid-state lighting solution. But still many facility operators wonder if the time is right to make the switch. Now that "future-proofed" adaptable LED sports lighting has arrived, here are four concerns that facility operators no longer face when evaluating the benefits of switching to an LED sports lighting solution.

1. BUDGET CONSTRAINTS will not allow me to purchase the complete functionality I will eventually need. Adaptable LED sports lighting offers customers a suite of a-la-carte features and functionality allowing them to add features as their needs change. A few of these features include: RGBA color, beam tuning, color temperature tuning, remote health/status monitoring and a dynamic scene builder with the capability to make personalized lighting scenes.

2. EVOLVING TECHNOLOGY will make the system I buy today antiquated by the time it is installed. Many current LED sports lighting systems are simply a string of independent fixtures that are only connected via the in-house control system to turn the lights on and off. An adaptable LED sports lighting system is designed with an intelligent cloud data approach that connects the entire system, allowing users to remotely monitor system heath and upload new features, functionality and upgrades.

3. WHAT I NEED TODAY might not be what I need a decade from now or beyond. The long lifespan of an LED sports lighting solution can be both a curse and a blessing. But with the ability to add features, functionality and technological innovations, facility operators can be assured that the system they buy today will remain state-of the-art and solve problems they don't yet anticipate.

4. WARRANTIES are expensive and never seem to cover the service or parts I need. The ability to monitor system health and usage has allowed warranties to evolve from a quarter-decade long coverage plan that treats everyone the same, to a more personalized service plan. Rather than commit for 25 years, facility operators can choose a 10-year traditional warranty and then enter into an annual service agreement if desired based upon their specific use and health of their system.
To learn more about the latest in LED sports lighting technology, visit ephesuslighting.com.
---
This article is part of a monthly series on sports lighting. View the entire series here.