Homage to Chicago's rich theater history is paid in an unlikely place: McCormick Place — and specifically Wintrust Arena at McCormick Square.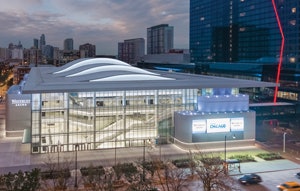 The two-year-old home of DePaul University basketball, built on the site of North America's largest convention center, features a segmented barrel-vault roof and a splintered second-level seating bowl designed to add drama to any event — inside the building and out. Located at the arena's southwest corner, the largest of these wedge-shaped splinters measures 45 feet at its widest, affording passersby a glimpse of the arena's enormous scoreboard, thus energizing ticket-holders approaching an event or perhaps enticing others to attend the next one. Inside, smaller splinters provide peeks at the signature roof interior from points along the main concourse. Moreover, breaking up the cantilevered second level this way allowed for a steeper rake to be specified in the Demon Deck, stacking rows of students in a section that seems to hover over the basketball court's north end line. "The thought was to make the bowl feel very light, very intimate," says Troy Sherrard of Moody Nolan, which implemented the design concept of Pelli Clarke Pelli Architects. "Glimpses of light shine through the cracks and under the bowl so that it floats and appears a lot more dramatic — the whole notion of it being more of a theater."
---
This article originally appeared in the September 2019 issue of Athletic Business with the title "Seating bowl openings add drama to arena." Athletic Business is a free magazine for professionals in the athletic, fitness and recreation industry. Click here to subscribe.