The University of Maryland provides hard evidence that brand reinforcement within the football stadium setting can transcend two-dimensional team logos at midfield and school colors in end zones.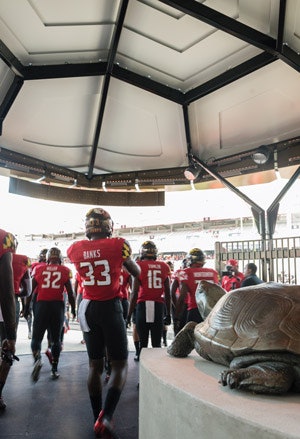 A 110-yard tunnel from which the Terrapins emerge on game day terminates with a three-dimensional diamondback shell made of painted steel panels bolted to and supported by welded steel. The segmented oval shell covers 850 square feet of staging area, allowing nearly the entire team to gather before breaking for the home sideline, and five LED spotlights and 85 LED strip lights can be programmed to add theatrical impact. CannonDesign team members ensured the shell's anatomical correctness — down to the quantity of segments found on a real diamondback terrapin shell. "We needed something more interesting than just a hole in the wall coming out from the tunnel," says CannonDesign principal and Washington D.C. office leader Roland Lemke. "It was important for us to brainstorm ways to make Maryland special, to focus on Maryland and its mascot." Adds Eric Einhorn, CannonDesign vice president and D.C. sports practice leader, "All these different elements touch different parts of the athletic program and the experience, but they are all sending a message — to recruits, to students, to the area — that Maryland is a trendsetter."
---
This article originally appeared in the November | December 2019 issue of Athletic Business with the title "Terrapin-inspired field entrance shell burnishes Maryland brand." Athletic Business is a free magazine for professionals in the athletic, fitness and recreation industry. Click here to subscribe.