Bigger. Better. Shinier.
That's a fitting description of the enduring arms race in upgrading athletic facilities at U.S. universities and colleges.
The building boom in football stadiums and other collegiate athletic venues is being driven by student-athletes and fans increasingly demanding that their school's sports are played in top-notch, modern facilities.
It's in the schools' best interests to invest heavily in keeping their athletic facilities up to date, as revenue generated from sports remains the lifeblood of many colleges and universities.
Revenue from tuition, ticket and concession sales, broadcasting licensing agreements, and money from alums and other donors helps keep schools' finances humming. So, it's important that schools keep their athletic facilities in top condition if they want to maintain that revenue stream.
In recent years, schools have made huge investments in improving their athletic facilities, many of which haven't aged gracefully or weren't designed to adequately accommodate modern-day conveniences.
For example, a Washington Post study in 2014 found that 48 schools spent more than $770 million on new construction or renovations of athletic facilities, compared with around $400 million in 2004. And it's a sure bet that spending on collegiate sports building projects will continue its upward trend in the years ahead, given the impact that sports has on the schools and their surrounding communities.
One of the biggest factors behind the building frenzy is that schools are in a constant pitched battle to recruit the best athletes, who consider the quality of a school's sports facilities as a big part of their decision on where they plan to attend.
The fierce competition to attract student-athletes has led to colleges and universities upping their game in modernizing athletic venues, ranging from state-of-the-art playing surfaces to lavish training facilities and lounges.
Fans' changing tastes and preferences also have contributed heavily to upgrades in schools' stadiums and arenas. They no longer are content buying a hot dog and a soda at a concession stand and sitting in their seats to watch a game.
Instead, fans expect, or rather demand, collegiate sports facilities to resemble professional sports venues, many which now offer premium seating, guest suites, a wide mix of food choices, bars, WiFi, and other amenities.
Schools also are upgrading these facilities to ensure compliance of the federal Title IX law banning gender discrimination. That means schools receiving federal financial assistance are legally bound to offer similar types of facilities for both men's and women's sports.
In addition, safety and security measures are playing a more prominent role in redesigning sports facilities on college campuses across the country, partly in reaction to a rising number of active shootings and other acts of violence in buildings or other areas accessible to the public.
Duke University's Renovated Football Stadium Reflects Shift Toward Modern Collegiate Athletic Venues
Duke University's modernization of its Wallace Wade Stadium signifies how higher-educational institutions are transforming their athletic facilities to keep pace with the shift toward collegiate venues emulating professional sports facilities.
Work on the stadium's three-year multi-phase renovation, which was completed in 2017, was the result of the Durham, NC, university's commitment years earlier to overhaul all of its athletic facilities. University officials developed a master plan for the school's athletic buildings, using a holistic approach that included planned upgrades for all existing buildings on the sprawling campus.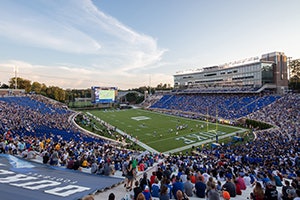 They realized that this approach was necessary in order for Duke to preserve its long and rich history as a collegiate sports power.The transformation of Duke's athletic facilities also resulted from a general perception shared among the university's staff, students and Durham residents that the athletic facilities were not truly reflective of the university's achievements and its athletic and academic programs.
The $140 million renovation of Duke's Wallace Wade stadium represented more than just giving another aging athletic facility a needed facelift.
The 40,000-seat stadium, the first athletic facility completed on the university's then-new West Campus, is steeped in tradition and history that only a few American college sports venues can match. Dubbed as the "modern centerpiece of athletics" at the university, the nearly century-old stadium hosted the 1942 Rose Bowl championship game, the only time that the game was played outside of Pasadena, Calif.
Highlights of the stadium's renovation included:
Reconfiguration of the bowl stadium included the removal of the running track and lowering the field by five feet. This allowed 4,000 additional field-level seats that heighten fan experience.
The installation of a new playing field and LED video scoreboard.
Expansion of a new pedestrian concourse with new concession stands, retail stores, ADA/companion seating balconies, modern restrooms, guest concierge services, ticketing and other amenities.
Renovation of the four-story Blue Devils Press Tower, which houses the university's broadcasting service and 22 luxury suites.
Construction of the tower's club level offering more than 850 seats and dining for both university and Durham events. This allows the stadium to be used more than its seven game days each year, a growing trend among collegiate athletic venues to become multi-purpose facilities.
Like most large-scale commercial building projects, the design-build team, The Beck Group, had its share of challenges in the stadium's multi-year renovation. One of the biggest was to work on the project without interrupting home games, graduation ceremonies and other events held at the stadium.
This was accomplished by phasing in the renovation work, such as building temporary press and coaches' boxes for home games. The design-build team took exceptional care to minimize any impact on the student-athletes, students and fans during this period.
But there most likely would have had a much different outcome if an integrated design-build approach wasn't used for the project. Because the architectural design and construction teams worked closely together on this project, they were able to eliminate or minimize scheduling delays, cost overruns and other problems.
The ability to overcome challenges in the stadium's renovation had recently gained industry recognition. The prestigious Design-Build of America 2019 Merit award in the higher education was given to The Beck Group for its work on the stadium's renovation. It should be noted that this renovation was the only North Carolina-based building project to be among the DBIA award winners.
With football, basketball and other sports programs playing a vital role in higher education, more colleges and universities are expected to make major upgrades to their sports facilities. Doing so, will yield significant economic gains for both the schools and their surrounding communities, as well as give those schools a competitive edge in attracting the best athletes, students, and faculty.
Ryan Horne is an Associate Principal at The Beck Group's Atlanta office.