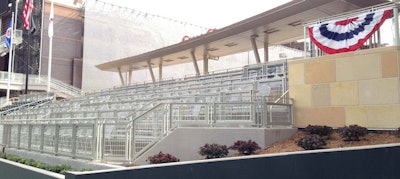 This content was provided by Staging Concepts. What is sponsored content?
In the 1989 film Field of Dreams, Kevin Costner's character, Ray Kinsella, introduced us to the idea that "If you build it, [they] will come." Over the past decade, however, attendance at live sporting events has stagnated or decreased across virtually all categories.
There are a number of factors contributing to this trend — everything from the rising costs of tickets, parking and concessions to the time commitment and hassles of getting to and from events. Additionally, today's venues are facing increased competition from improved home-viewing options with more people choosing to watch games in the comfort and convenience of their homes.
While some of these factors are unavoidable, the latter has become a major focus for teams and facility managers looking to re-engage fans by improving the in-venue experience. At Staging Concepts, stadium and arena renovations have become an increasingly large part of our business with a primary focus on elevating the fan experience through the addition of VIP spaces, party zones and improved accessibility.
Elevating the in-venue experience
Being based in Minneapolis, I am a frequent visitor to Target Field — both professionally and as a fan. In addition to being involved in a number of renovation projects at the stadium, I have also had several opportunities to take in Twins games from a VIP party zone called "The Catch." Adult beverages and freshly prepared food are included with the ticket. The space, which overlooks center field, includes seats with personal TV screens, along with couches and high-top tables so even passive fans can enjoy themselves while still feeling part of the MLB atmosphere. While there may be some empty seats in the upper bowl, this premium section at Target Field is perpetually sold out and full of energy.
Our team was also integrally involved in the addition of a VIP Pavilion at Citi Field in Flushing, NY — home to the New York Mets. Staging Concepts engineered a seating system that includes 18 platforms with custom railing, aluminum enclosures and four sets of stair units. Offering plenty of space to accommodate larger groups, the new stage deck also features drink rails bolted to the concrete floor and glass rail along the front to optimize views.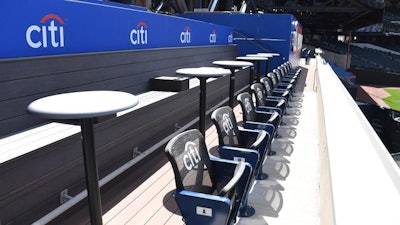 The need for fan engagement isn't exclusive to baseball. Commonwealth Stadium in Alberta, Canada, home to the CFL's Edmonton Eskimos, upped its in-venue game with an innovative riser system designed to create premium viewing options with added elbow room. Standard stadium seats in two main sections were removed and replaced with a Staging Concepts' all-aluminum SC97 platform system. These specialized viewing decks increased the physical space for a single spectator from approximately 4.5 square feet to an average of 242 square feet.
In addition to providing a more relaxed, open and social viewing environment, this type of replacement renovation can also benefit facilities financially. The appeal of the premium experience commands higher ticket prices, which means fewer tickets need to be sold. In most cases, venue owners realize a quick return on their remodeling investment.
Viewing options for every fan
The most important aspect of fan engagement is ensuring everyone in attendance a quality viewing experience no matter their individual preferences or needs. Staging Concepts had the privilege of being part of an ongoing renovation at Zephyr Field in New Orleans, where we provided weatherproof and ADA-compliant wheelchair accessible platform infills for 19 of the lower bowl sections in the stadium. We knocked out existing seats and added ramps, counter-height railing, IBC-compliant guardrail and aluminum closure panels to improve accessibility and create dedicated areas for fans who are wheelchair users.
In some cases, venues are thinking beyond the basics of compliance and comfort and considering how their spectators consume events. A prime example of form following fan function can be found at the Banc of California Stadium, home to Major League Soccer's Los Angeles Football Club (LAFC) and the nation's first safe standing system with integrated seating. The Club's 22,000-seat stadium features a standing supporter section with safety railing and folding seats that enable supporters to stand shoulder-to-shoulder creating an electrified and unified stadium atmosphere on match days.
Pitched at 34 degrees, it is the steepest supporter section in MLS, a key factor in the design of the seating rail system engineered by our sister company Trex Commercial Products. A fascia mounted metal railing frame angles back slightly, creating a comfortable lean rail for standing supporters, while slim profile, tip-up seats provide comfort and maximum standing room. Augmenting the appeal and value of this revolutionary design is the fact that the central portion of the section encompasses a removeable stage designed by Staging Concepts, which allows the stadium to host concerts and other events beyond MLS matches.
Fan engagement is a constantly moving target with no one-size-fits-all-solution, but projects like Banc of California Stadium showcase how imagination and innovation can redefine the fan experience at live sporting events. While priorities and preferences may vary from venue to venue, if you truly listen to your fans and build it right — they will come.
To learn more about Staging Concepts, visit their website, call 800-337-5339 or email [email protected].
About the Author
Alex McCallum is Eastern Regional Sales Manager for Minneapolis-based Staging Concepts, a division of Trex Commercial Products, Inc., a subsidiary of Trex Company, Inc. Since 1990, Staging Concepts has provided the most advanced, modular, custom staging solutions for all types of venues, including performing arts spaces, sports facilities, worship venues, hospitality settings and special events. For more information about Staging Concepts, visit www.stagingconcepts.com. For more information about Trex Commercial Products, go to www.trexcommercial.com.