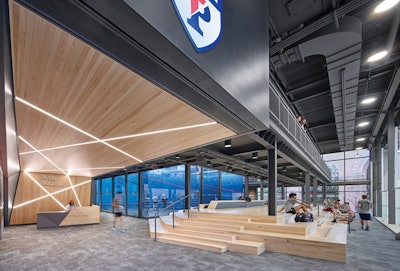 Upon an initial site visit, Penn Squash Center gave Andrew Donaldson-Evans the feeling of being inside a submarine, so the EwingCole principal subsequently moved view-obstructing columns and removed entire floor levels to create a tournament hall that greatly enhances the spectator experience.
Serving as centerpiece of the renovated venue, a ground-level sculptural island features a geometrically engaging blend of steps, tiered benches and an elevated platform for standing, with sightlines into six courts — two all-glass exhibition courts on one side, four standard courts on the other. Maple millwork ties the island gallery structure to the glass-enclosed hardwood on which competition takes place, and stands in stark relief to its largely gray surroundings. Moreover, opening the space allowed for spectator viewing from a mezzanine-level bridge bisecting the tournament courts. "We had to work mostly within Penn Squash's existing mid-century building footprint, which meant radically rethinking how a competition venue could work," Donaldson-Evans says. "Whereas most squash facilities put exhibition courts in the center, with spectators distributed around them, Penn Squash places spectators in the middle, surrounded by all the action. We designed the spectator island to preserve sightlines across the room, so you can watch multiple courts at once, and detailed it like a piece of millwork. When it is fully occupied during a tournament, it amplifies the drama, but it still works for daily use as a dynamic, functional centerpiece instead of looking like an empty arena."
---
This article originally appeared in the October 2020 issue of Athletic Business with the title "Sculptural island serves Penn squash spectators." Athletic Business is a free magazine for professionals in the athletic, fitness and recreation industry. Click here to subscribe.