It may seem like an odd time to take a look at spectator seating, but for the most part these days — in ticketing speak — it's an unobstructed view.
The coronavirus pandemic has forced fans and stadium operators alike to be flexible in terms of how live sports are consumed, with many events staged in front of banks of empty or mostly empty seats. As the nation's sports venues gradually return to full capacity, ensuring fan comfort — both physical and psychological — may take time.
"The pandemic will certainly be on people's minds for an extended period," says Matt LaLonde, president of Kalamazoo, Mich.-based seating manufacturer Interkal. "I feel pretty strongly, however, that people are already champing at the bit to return to athletic venues and see their favorite teams perform."
When spectators do finally return to their seats, they will benefit from innovation that predates the pandemic and, in some cases, makes emerging from its shadow a little easier.

Comfort
State-of-the-art seating combines ergonomics, dimension and convenience to make sitting inside a stadium nearly as comfortable as watching a game from home.
As stadium designs tend to eschew capacity bragging rights for spectator comfort, individual seats have gotten wider. "Our products allow you the flexibility to utilize greater spacing and wider seats," LaLonde says. "This combination will not only make you safer, but certainly more comfortable, as well."
Materials likewise have morphed. Over the decades, wood bleachers were replaced by aluminum bleachers, which have been further enhanced in many settings with the color and comfort afforded by synthetic bleacher finishes. One seating model recently introduced to the market represents a hybrid of bench and chair, featuring a deep and contoured bench seat paired with backrests that can be raised and lowered either automatically or manually, as well as optional armrests and cupholders.
Traditional chairback seats, long a staple of professional sports, are seeing expanded application in the collegiate setting, as an increasing number of schools opt to convert sections of bleacher seats to a more premium experience — and charge a ticket price to match.
Chairback seats can feature hinged or fixed seat pans, as well as solid backs, open backs (for a retro ballpark aesthetic) and upholstered seats and backs. The latter category is no longer relegated to indoor suite settings, either. It's not uncommon today to see a stadium's field-level sections feature high-back upholstered chairs that seem as though they've been supplanted from fans' family rooms.
An arena setting may feature a combination of seats — chairback, bleacher and even portable (think courtside chairs). If the venue serves a variety of sports and must accommodate, say, a basketball-to-hockey conversion, telescoping seating platforms can accommodate all three seating types.
Comfort also extends to how secure spectators feel when taking their seats. Key considerations when specifying a riser system include how it mitigates foot slippage when wet and dampens glare in direct sun. Louisville, Ky.-based Dant Clayton Corporation has introduced a hybrid system that combines steel support with lightweight precast concrete walking surfaces, providing the feel of a conventional precast concrete stadium at reduced cost.
Whether seats are supported by an angled-steel frame system or a system of columns and I-beams may depend largely on surrounding terrain, according to GT Grandstands in Plant City, Fla., which offers both systems but specializes in the latter. I-beam systems lend themselves to uneven stadium sites, even hillsides, and the openness often afforded underneath these systems can be used to accommodate such ancillary spaces as restrooms and retail points of sale.
In either case, today's bleacher systems often feature a first row that's elevated several feet off the ground, requiring access stairs and ramps. If a system's rows number in the dozens, one or more stair towers can provide a safer and quicker means of reaching top rows without using stadium aisles and obstructing the views of other spectators.

Flexibility
With social distancing protocols requiring that more seats remain empty than filled in any given venue, one solution to accommodating more fans is to increase the overall number of seats. This can be accomplished using towable bleacher units, each capable of adding up to 10 rows and hundreds of extra seats.
"Several football games I have been to recently have used them as additional seating to add to the capacity of the current stadium," says Chad DeBoer, vice president of sales and marketing for bleacher and accessories manufacturer Kay Park Recreation in Janesville, Iowa. "The Iowa High School Athletic Association, for example, provided guidance of marking off every other row to spread people out."
Moreover, putting distance between individual portable bleacher units can keep people from comingling. "We have seen schools use the bleachers to keep people together in the same cohort groups," DeBoer says.
Thirty years prior to the coronavirus, passage of the Americans with Disabilities Act forced venue operators to rethink patron accommodations, including seating and access to seating. The founding of Staging Concepts, a manufacturer of risers, platforms, railings and ramps in Brooklyn Park, Minn., coincided with the law's 1990 passage.
"We've had great success in using our portable platforms and supports to design seating infills and ramps that can be installed for temporary or permanent use," says Cindy Albrecht, the company's director of sales and marketing. "Seating infills are often seen throughout a stadium's concourse to allow sufficient viewing for patrons."
While the ADA changed stadium seating for good, the coronavirus may have lingering impact on the industry, according to Albrecht.
"COVID-19 has led to a new norm of social distancing that will undoubtedly play a major role in how people gather at events in the coming months and years," she says. "As sporting and other events slowly return, it's likely that many venues will make efforts to adapt their settings to accommodate new social spacing requirements and requests."
VIP seating and gathering options will continue to be popular elements of any spectator venue design, but perhaps with social distancing more top of mind than in the past.
"Key factors for staging and designing seating areas at venues will be flexibility and modularity," Albrecht says. "Non-permanent solutions give architects, designers, building operators and facility managers the ability to install and test solutions and then adjust or change them if needed. Flexible options also are less costly than permanent solutions that require the pouring of concrete."

Quarantine-induced cabin fever may actually help drive people from their living rooms and into live event atmospheres again — reversing the pre-virus trend of attendance apathy among fans. Any return to packed houses will no doubt be gradual, but the safest, most comfortable seating and grandstands the market has ever seen will be waiting.
"We will eventually get this pandemic behind us," says Interkal's LaLonde, "and when we do, I am confident crowds will return in even greater numbers."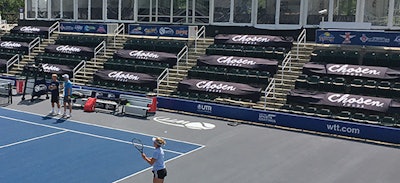 Protecting seats, spectators
As beautiful and durable as spectator seats have become, there are times when it makes sense to hide them.
Covermaster has been covering gym floors and fields for more than three decades, and stadium seats almost as long — dating back a quarter-century to what company president Ken Curry calls "the end of the golden age of the multipurpose stadium."
Pittsburgh's PNC Park and Heinz Field both opened in 2001. Prior to that, the Pirates and Steelers shared Three Rivers Stadium — Covermaster's first client on the seat-covering front.
By 2008, the company got increasingly creative when it blanketed the upper bowl of Qwest Field (now CenturyLink Field) so that the 72,000-seat home of the NFL's Seattle Seahawks could be scaled appropriately for games hosted by the Seattle Sounders FC of Major League Soccer. More than just reducing capacity by nearly half, the section-spanning seat covers became puzzle pieces in a massive mural circling the stadium and depicting one player kicking a ball and a goalkeeper stretching to make the save. "It was still an intimate atmosphere because it was an image wrapping the upper bowl. They weren't empty seats. It was just all part of the game-time experience," Curry says. "It really was awesome."
Beyond intimacy and aesthetics, covers can protect seats from the elements — from snowstorms in the Steel City to sandstorms in Qatar. Stadium seats in Mexico may need to be screened from the intense off-season sun, thus extending their lifespan, according to Curry, who adds that vinyl mesh has long been the go-to cover material in open-air stadiums. "It will trap most of the dirt and debris from getting onto the seats, but water and wind can still pass through," he says. "Now we have newer materials — essentially stretch fabrics that can be a solid or a mesh, and the advantage is it's lighter, it's quicker to put on and when you stretch it out, any wrinkles are really not visible to the eye, especially from a distance. It is a more expensive option, but it's easier to handle, takes less space to store, plus the graphics are much more vivid. It's a better printing medium than the vinyl meshes."
Covers are secured using rubber bungee cords that affix to existing seating infrastructure and grommets around the perimeter of each cover.
A new technology involves using a specific PMS color on covers to serve as a green screen, allowing television broadcasts to superimpose the colors and logos of multiple corporate sponsors — or in the case of New York's Red Bull Arena, the different colors and logos of MLS teams sharing one venue during the pandemic.
In fact, the pandemic has created another use for seat covers — spectator protection. "It's been a strange year," says Curry, pointing to The Greenbrier resort in West Virginia, where seat covers went beyond mere branding of World Team Tennis events. "This was different. Every other row was covered with logoed seat covers — sort of like a box cover that would fit over the top of the seats nice and tight — providing logos but also providing physical distancing between rows in the stadium."
---
This article originally appeared in the November|December 2020 issue of Athletic Business with the title "Comfort and flexibility more important than ever in venue seating." Athletic Business is a free magazine for professionals in the athletic, fitness and recreation industry. Click here to subscribe.