Work began recently on a $7.4 million expansion to the team building at Donald R. Dizney Stadium at the University of Florida. The expansion includes new team spaces for Gator soccer and upgrades to Gator lacrosse areas.
The project renovates 2,000 square feet of the facility and adds 13,800 gross square feet to the existing facility. Both Gator soccer and lacrosse spaces will provide all that is needed before the teams step outside the building to train or compete at Dizney Stadium.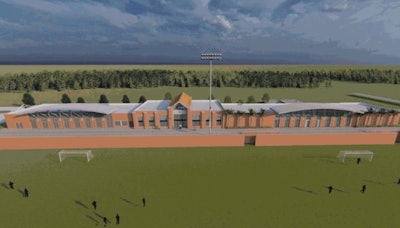 The space will add a soccer locker room, soccer and lacrosse coaches offices, conference space, equipment rooms, film rooms, sports medicine and hydrotherapy areas, team lounges and a shared lobby.

The project also includes enhancements to locker and training areas for Gator lacrosse, visiting and official team locker rooms, lacrosse equipment and conference rooms.
Completion is scheduled for March 2022.
The Dizney Stadium project is part of the university's $155 million fundraising campaign to complete its three-phase facilities master plan, which is in its third phase. Phase 3 also includes the construction of the $85 million James W. "Bill" Heavener Florida Football Training Center, which is scheduled for completions in spring 2022. – FloridaGators.com
A new multisport complex is coming to Dickinson State University in North Dakota next year. The project was recently approved and the goal is to start construction on the $7 million facility in spring 2022.
The complex will include four softball fields, one of which will be a turfed championship-level stadium. There will also be multiple soccer fields. Built between Dickinson State's campus and Dickinson high school, the complex will be used by both schools plus recreation teams.
Dickinson State athletic director Pete Stanton says the project will be funded through donations and matching grants received by the university. The complex is expected to be completed by the fall 2022. – Kxnet.com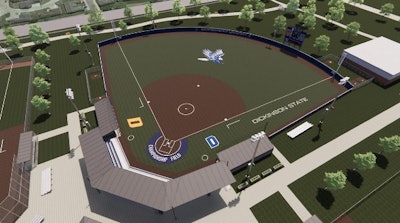 Young hockey fans and players joined Hendersonville, Tenn., leaders last week in a groundbreaking for a new $2.8 million inline hockey complex at Volunteer Park at Arrowhead.
The complex will include two covered inline rinks and will be the first of its kind in Middle Tennessee.
The facility will replace rinks that were destroyed by flood waters in 2010 and again in 2019. After the 2019 flood, the city's insurance carrier said it wouldn't pay for repairs if the area was damaged a third time.
In September 2019, the decision was made to move the facilities to Volunteer Park at Arrowhead.
The hockey league will be able to host tournaments in Hendersonville without weather as a deterrent. It will be an open-air facility with a clear-span roof. The city plans to have the rinks open by October. – Portland Sun