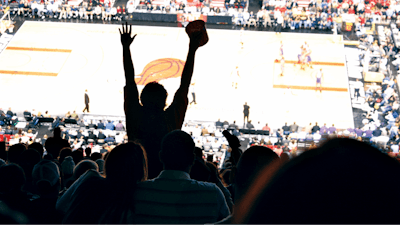 Spectators' in-stadium experiences have been morphing for years, but a once-in-a-lifetime pandemic (let's hope) dictated development of new technologies and protocols that profoundly changed game day in many ways, and in the process challenged operators and fans alike. A return to mass face-to-face gatherings after nearly two years apart came with some growing pains and emphasized the importance of both emerging tech and the human touch.
Limited workforce
Operators had more than a year to develop policies and technological advancements to push in-stadium capabilities forward, but the evolution has been limited by the dearth of game-day employees resulting from the pandemic.
In the wake of the March 2020 shutdown, employees in many sectors sought other opportunities, or simply moved on from their previous ones. As society began reopening, many businesses had trouble filling open positions — including the business of staging college football games. Fans at the University of Louisville, Northern Illinois, Oklahoma, Oregon State, Arizona and Alabama endured less-than-ideal in-stadium experiences during the opening weeks of the 2021 season.
In a letter to the UL community following the football team's season opener Sept. 11, athletic director Vince Tyra said it typically takes about 400 employees to work food-and-beverage services during a Cardinals football game, but there were only 250 employees available in week one. "We had staff come from Indianapolis, Nashville, Lexington, other cities, Cincinnati, just to get what we had," Tyra said following Louisville's 30-3 win over Eastern Kentucky.
Oklahoma faced similar staffing issues during a 23-16 home win over Nebraska on Sept. 18. Subpar staffing prevented Gaylord Family Oklahoma Memorial Stadium from opening all of its concessions stands during the game, leading to long lines on a day that Oklahoma executive associate athletic director Kenny Mossman said "was one of our highest-volume days of concessions ever," due in part to the heat and humidity. Exacerbating the problem was the fact that school groups that typically work concessions stands have been affected by the pandemic like everyone else.
"With COVID protocols being what they are at schools, occasionally we will have groups that are signed up that will have to make last-minute changes and will be unable to help," Mossman said, as reported by KFOR.
Bringing fans back
Of course, accommodating patrons in stadiums is a concern only if fans are comfortable with showing up at all. Organizations have taken great pains to offer in-stadium mask and social-distancing protocols that they feel their fanbases will embrace or at least begrudgingly tolerate.
Enticing fans to return to live events after more than a year of watching sports exclusively on TV is a task further aided by new technologies — including those that help mitigate the impact of a limited workforce. In-game spectator experiences are more sophisticated than ever, with many designed to give fans some of the same comforting options — such as increased mobile connectivity and the ability to track fantasy football and gambling data in real time — that they enjoy while watching games from their living room.
While advanced videoboards and other in-stadium visual components were once a primary focus, technological advancements have steadily put control of the stadium experience in the hands of fans.
Texas Christian University implemented new features at Amon G. Carter Stadium in Fort Worth, partnering with Digital Seat Media to install 45,000 metal tags, each with a QR code, on individual seats as a means of connecting with fans. UCLA, Oklahoma, Oklahoma State, Washington, Baylor and Virginia Tech are among the schools to also implement this technology, which has the flexibility to be customizable for each school, and from game to game.
"We just felt that there's got to be a way to communicate with an individual fan or the students instead of only on the jumbotron," Digital Seat Media CEO Cameron Fowler told the Fort Worth Star-Telegram. "The seats were the last remaining area that really hadn't been addressed in live entertainment."
As reported by the Star-Telegram, when Horned Frogs fans scan the QR code with their smart phones, they can access things such as TCU-inspired Instagram filters, digital game-day programs, downloadable coupons and live stats. Schools with Digital Seat Media, which works on all mobile browsers, can also use this technology to send a message directly to students at indoor or outdoor stadiums.
"We have 28 modules in our library. Every one of those modules does a different thing," according to Fowler. A digital game-day program is one of them. We offer incident reporting if someone is having a medical issue or being obnoxious in your section."
"Every year we strive to gather feedback and make enhancements to the game-day experience," TCU athletic director Jeremiah Donati says. "Even coming out of a year with a lot of restrictions and limited capacity, it was no different this offseason. We continue to move the ball forward."
The increasing levels of technology mean fans need to leave their seats less frequently during games, as a number of stadiums have implemented features that allow fans to order concessions directly from their seats. Moreover, many stadiums are opting for cashless concessions, which makes for shorter wait times — that is, when the system is working. Tyra reported that wasn't always the case at Louisville, where a new software system failed to read cards from local banks.
Digital ticketing
One pandemic-created change that appears to have staying power is the shift from physical to digital tickets. Now, instead of holding onto paper tickets and presenting them at entrance gates, fans just download tickets to their cellphones and scan while passing through the turnstiles.
Just as with concessions, the process can be a smooth one if operating as planned. However, many fans are still unfamiliar with digital ticketing, particularly when it comes to reselling tickets, transferring them to other people's devices, or even accessing them quickly while in line to enter the stadium.
Tyra and Arizona athletic director Dave Heeke agree that one way to limit the impacts of the labor shortage is to download virtual tickets to Apple Wallet or Google Pay ahead of time so that internet connectivity isn't needed to scan them at stadium gates. Tyra said that only about 8 percent of tickets were downloaded to virtual wallets prior to the Eastern Kentucky game.
"I want to apologize to those who were unable to fully enjoy that exceptional experience," Heeke said after many Arizona fans were waiting in long lines through kickoff of a 38-14 loss to San Diego State on Sept. 11. "We fell short in our obligation to provide you that experience. For that we sincerely apologize. We did not deliver.
"Saturday's football home opener was our first home game with fans in over 650 days, with some updated and new security and safety efforts. Consistent with other large sport venues across the country, these new safety efforts have been part of our strategic priority to take deliberate steps to improve overall game-day management, enhance safety and improve fan experience. However, we experienced delays and deficiencies at entrance gates as we struggled to effectively implement new technologies. Please don't misinterpret these as excuses. The fact remains … we did not meet expectations."

Accountability
While technology allows fans to remain seated throughout the majority of games, it also ensures they don't have to leave their seats to get in touch with facility operators. Improved in-stadium Wi-Fi and cellphone connectivity means that fans have a direct line to universities and franchises.
That increased fan access means increased accountability, and fan complaints are apparently being heard. After confessing to local CBS affiliate WLKY that the Cardinals had "fumbled the fan experience," Tyra announced a series of improvements and perks, such as 50 percent off all drinks during the first half of a Sept. 17 home game against Central Florida. In addition, the athletic director communicated to season-ticket holders that Cardinal Stadium would accept cash at select concessions stands, increase the number of concessions sales locations by 40 percent, create four beverage-only concessions stands, train staff on ticket scanners, add supervisors to each gate, and that concessionaire Centerplate would add 150 workers from nearby staffing agencies in order to hit 400 game-day employees.
 "We witnessed the issues first-hand and have efforted to solve for them ever since," Tyra said at the time. "We expect significant improvement."
Northern Illinois did something similar, releasing a statement after a Sept. 11 home loss to Wyoming to say that "it became apparent that our game-day operations encountered many of the same issues that are affecting venues across the country in terms of staffing and supply shortages. We know that long lines and the lack of availability of items negatively affected the experience of our fans in attendance. Immediately following that game, we met internally as a staff, and subsequently with our partners to address and find solutions to these issues."
The statement included a list of changes to be implemented at Huskie Stadium in DeKalb, Ill., prior to a home game against Maine on Sept. 25. Among the changes, ensuring increased staffing numbers and training, especially in concessions and premium areas; allowing each fan to bring one sealed plastic water bottle into the stadium; opening access to all stadium water fountains; opening some concessions stands to either cash or credit card payments, while smaller stands remained cash only; and adding a beverage-only stand.
In Oklahoma, athletics director Joe Castiglione responded to fan complaints with a Twitter post that read, "We want to acknowledge the complaints we have received about concessions operations from fans attending yesterday's game. Candidly, it was not up to the standards we set for fan experience. We apologize to our fans for falling short of your expectations. Unfortunately, the staff shortages affecting so many businesses and stadiums around the country have had a profound impact on our operations as well. We are unable to open all our stands and several that are open are short-staffed. These shortages also inhibit our ability to restock our inventory during the game. We do not offer this [as] an excuse but just recognition of the challenges we are trying to overcome. We are working diligently with our partners to return to normal operations as soon as possible. Our vendors continue to make every effort to attract and hire a full workforce. We appreciate your patience and understanding."
There was inherently going to be a learning curve as aspects of game day move online, and schools have dedicated themselves to working out many of the kinks during a season in which fans are hyper-aware due to their year away from stadiums. That said, if fans become more aware of and comfortable with new technological capabilities and teams commit to properly staffing their venues, the spectator experience should soon be more streamlined than ever.