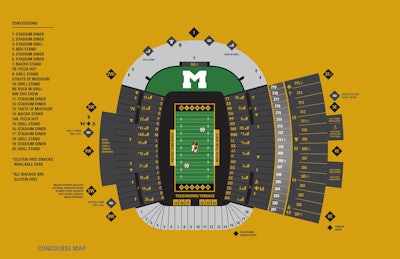 After consulting with students and on-campus stakeholders, the University of Missouri is alerting seating sections at Faurot field ahead of the 2022 football season.
As reported by the Columbia Missourian, the move is the first of MU's game day enhancements for what will be coach Eliah Drinkwitz's third season with the Tigers.
The Missouri student section will be consolidated to sections 107-110 of the lower bowl in the northeast corner of the stadium. MU will also return to offering block seating for groups and student organizations. The Marching Mizzou band will remain in its designated section.
Visiting team fans will be moved from the 50-yard line to the southeast corner of the stadium near their team's entrance in both lower- and upper-bowl seating. This change will help Faurot Field mirror other Southeastern Conference stadiums, like Georgia's Sanford Stadium, where visiting parents and fans are often condensed to a corner section.
The section formerly occupied by visiting spectators will be available for Tiger fans during MU's general 2022 ticket sales. The 281 ticket-holders affected by the student section being moved will be given the opportunity to relocate their seats.
"After directly engaging with our fans and students, we wanted to better showcase the energy of a complete student section at Faurot Field," MU athletic director Desiree Reed-Francois, said in a news release, as reported by the Missourian. "Our students bring a special energy to game day as we saw first-hand in the overtime win over Florida. We want our opponents to know that Mizzou has a great home field advantage and we are excited to take these steps to enhance the student experience and to better energize the atmosphere at football games."