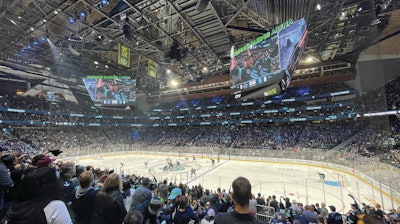 The NHL's Seattle Kraken and their fans are the benefactors of one of the most technologically advanced and efficient arenas ever built. Climate Pledge Arena, which opened in October 2021, is one of the first-ever net-zero carbon arenas in the world. The 740,000-square-foot facility's name stems from Amazon's naming-rights partnership, which enlists the facility in The Climate Pledge, a global initiative that commits signatories to net-zero carbon across their businesses by 2040.
Climate Pledge Arena is the focus of this issue's Tech Roundup because it is a showcase of cutting-edge technologies and design that make for not only a facility, but also one that supports a second-to-none fan experience.
Double vision
Architecture firm Populous designed dual suspended arena scoreboards — a signature element of Climate Pledge Arena. The firm says the task required a thorough analysis of on-ice and on-court action for hockey and basketball, spectator and athlete sightlines, and flexibility for shows and concerts. The result is a pair of distinctly shaped video displays that place digital content in an ideal location for spectators, improving the atmosphere and connection between fans on opposite sides of the seating bowl.
Wayfinding the easy way
The arena boasts 28,175 square feet of digital signage incorporating 145 million total pixels. The immersive LED experience displays wayfinding, events and partner promotion throughout the user journey, as well as atmospheric imagery that is customizable for each event.
Specifically, Daktronics supplied ample displays throughout the concourses and atriums of the arena. The 100 interior LED displays are installed in varying locations throughout, totaling 13,175 square feet. These include atrium bridge displays, The Climate Pledge Living Wall featuring 200 feet of live plants and LED activations on the main concourse, and east concourse picture frame features.
Outside the arena, Daktronics supplied 51 LED displays totaling 3,830 square feet to communicate with people as they pass by and arrive for events. These outdoor plaza displays brand the facility immediately upon arrival, and parking displays give real-time direction to help with traffic flow.
Grab and go
Along with Amazon's naming rights to the arena, the venue features the online retailer's grab-and-go "Just Walk Out" technology. The feature has been installed in food and beverage locations within the facility and allows for patrons to select their items, charge them to their account using their phone, and leave without having to pay through a cashier.
Rain to rink
Climate Pledge Arena aims to make the most of Seattle's rainy climate. The facility is designed to harvest water off the roof, collect it into a 15,000-gallon cistern, and turn it into the greenest ice in the NHL. The arena also features waterless urinals, ultra-efficient showers and water bottle filling stations, as well as significant on-site retention tanks that reduce storm water runoff.
All electric
The arena houses solar panels on the roof of the main entrance atrium and on a parking garage across the street, which are projected to generate 570,000 kilowatt hours annually — enough to power over 53 American homes for an entire year. The arena and its operations are electric, eliminating fossil fuels completely. Since Seattle's electric grid is almost completely powered by renewables, the change to all electric will save 1,470 metric tons of carbon dioxide each year compared to the baseline — that's the same as 320 passenger vehicles emitting greenhouse gases for one year.
Public transportation
To be net-zero carbon — which eliminates carbon in the first place versus identifying carbon offsets, as in a carbon-neutral approach — transportation tracking is a critical component of a successful strategy. Populous helped organizers with insights into a fully integrated transportation plan for Climate Pledge Arena that includes electric vehicle charging stations, bike valets for events hosting more than 10,000 people and streamlined access via monorail. The preservation of the existing site is beneficial since it resides in a neighborhood with established and efficient access to public transportation. Climate Pledge Arena is also buying credits to offset transportation emissions out of its control. To further promote the use of public transportation, Seattle Kraken and Storm tickets also double as free public transit passes on event day.