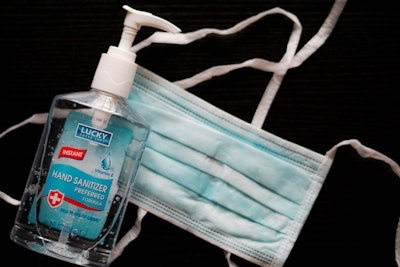 Spikes in coronavirus infections and challenging COVID-precaution fan compliance continue to prompt athletics departments and arenas to change their approaches even 21 months into the global pandemic.
In Boston, Northeastern University's athletics department announced Friday that home athletic events will be held without spectators beginning Sunday, including the 6,000-seat Matthews Arena.
In a news release, the school said the an increase in the number of COVID-19 cases — including some cases of the Omicron variant — on campus, primarily in the student population, prompted the decision. The university said the decision was made "out of an abundance of caution."
A day later, the university announced two men's basketball games had been canceled. Positive COVID-19 test results within the athletics program caused Sunday's game against Vermont and Wednesday's game against St. Bonaventure to be canceled. The Huskies are scheduled to return to action on Dec. 29 at Elon.
In New York, Syracuse University announced Thursday additional public health protocols to take effect immediately at athletic events, including at the university's 49,250-seat Carrier Dome.
According to the release, new measures include:
All fans age 5 and up are required to provide proof of vaccination or negative COVID test. Proof must be shown at the gate to secure entry to the stadium. (Newborns to age 4 do not require a vaccination or a test result to enter the facility.)

The Courtside Lounge will be closed.

Club 44 will be closed.

No food or alcohol will be served at the stadium; water, soft drinks and coffee will be available for purchase at the cashless registers in the concourse.

Pre-game courtside gathering will be prohibited.
Syracuse University officials said the revised measures are intended to help mitigate potential spread of COVID while providing athletes and fans a safe and enjoyable environment.
The stadium will continue to operate in accordance with the existing guidance and protocols prescribed by the state of New York and the Onondaga County Department of Health. Existing local public health regulations will continue to be strictly enforced at the stadium.
Regulations include:
Masks are required for all patrons over the age of two (vaccinated and unvaccinated) when not actively eating or drinking, while indoors at the stadium and outdoors when in the presence of others for all events.

Patrons displaying any COVID-19 symptoms, have been in close contact with someone that may have been exposed, or have a temperature exceeding 100.4° F are asked to stay home.

For safety and security, the stadium will enforce a Clear Bag Policy. Each fan is allowed one clear bag one small clutch or purse. Fans will be asked to return non-approved bags to their vehicle prior to stadium entry. Please visit the stadium entry/clear bag page for additional information.

Stadium staff will not accept or provide a holding area for prohibited items. Please visit the Stadium Guest Services page for more information on prohibited items.

Fans should enter the stadium at the designated gate on their ticket. They should arrive early to avoid delays and allow additional time to go through the entry validation process.

Hand sanitizer stations are available on the concourse levels.

Dedicated sanitizing staff are assigned to monitor and treat frequently touched surfaces.
Fans who are not able to provide proof of full vaccination or a valid negative COVID-19 test according to the conditions above will not be allowed to enter the stadium. Over-the-counter test kit results are not accepted.
Masking compliance challenge in Indiana
At Indiana University, athletic director Scott Dolson recently described to Monroe County's Board of Health the difficulties in getting fans to mask up according to the rules, despite repeated messaging before and during the event.
According to a report from the Herald-Times, Dolson appeared at the meeting following recent criticism over the lack of mask-wearing at sporting events. Dolson was at the meeting Thursday to reaffirm the university's commitment to the health order and explain some persistent compliance challenges.
"Full compliance in large stadiums is really, really challenging, not just specific to us," Dolson told the board, describing similar problems he's heard from other athletics directors in the Big Ten Conference.
Dolson said inside the 17,222-seat arena — Simon Skjodt Assembly Hall — on the Bloomington campus of Indiana University, mask-wearing loopholes have some fans visibly unmasked.
Assembly Hall is like a "big, large bowl" where communication can be difficult, Dolson said. With concessions available, many attendees can claim they are actively eating and drinking as a reason for not wearing their masks. Under Monroe County's current health order, attendees can take off their masks while seated at an establishment that serves food and drinks, as long as they are actively eating and drinking.
Dolson said a heavy-handed measure considered among other colleagues in the Big Ten Conference was having staff point out and approach people who were not compliant with the mask order. However, attendees could claim they were eating or drinking their concession items, which is permitted, he explained.
"It's one of those things that you're putting a finger in kind of the dike, stopping one leak, and it's hard. So it really would put our support staff in a position that they're set up to fail," Dolson said.
Dolson said the university wants to continue finding creative ways to deliver the message to mask up and take measures to prevent spreading the virus.
"I think our fans, (from) what we seen, are more responsive to positive reinforcement rather than, as you suggest, a negative of 'Hey, you better do this and here's your last warning or we'll try to eject you,' " Dolson said. "Doing that would be just really challenging to get that done, although I understand the seriousness of it. I just think because someone can always just have a drink in their hand and pull (the mask) down and say, 'I was drinking,' it's just really hard," Dolson said.
Monroe County health officer Dr. Thomas Sharp suggested IU's messaging should include that attendees would better protect the team's health by wearing masks.
Dolson agreed with Sharp, pointing out that there are some schools across the country that have had to pause their game schedule due to upticks of cases amongst players and coaches.
While attendee compliance is vital regardless of seating, Dolson agreed with board member Stephen Pritchard that mask wearing is extremely important close to the court. According to Dolson, IU has discussed additional measures around the court before, and are now committed to take more action in the area around the court, though details on what that would look like were not discussed.