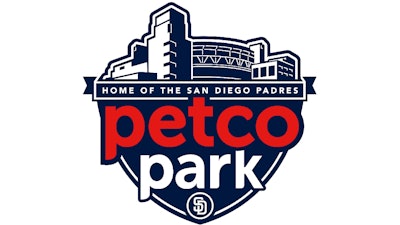 An SUV driver in San Diego was caught on video Friday driving on Petco Park field, whipping donut maneuvers and causing damage, officials said.
KSWB-TV reported Monday that the driver, whose identity officials did not release, was arrested on suspicion of felony vandalism.
According to reports, on Friday just before 10 a.m., Ryan Carlson witnessed the SUV enter the ballpark. Carlson recorded part of the incident from his office. The video shows the white SUV with a black top driving all across the field, leaving tracks.
"He just whips out and starts doing doughnuts," Carlson told the San Diego Union Tribune on Friday.
Carlson said he was briefly confused, then believed someone "must have authorized this" as he watched the driver tear across the outfield that was covered in leveled dirt in what appeared to be preparation for installing the grass playing surface.
Crews have been preparing Petco Park for baseball, despite the MLB lockout, after the facility hosted monster truck rallies and dirt bike races in January, the San Diego Union Tribune reported.
The stadium's grounds crew were able to block the field's only exit with a forklift, which kept the SUV driver in the ballpark until police arrived.
"It was totally surreal," Carlson said.
San Diego police provided few details of the incident, but confirmed that "someone drove onto the field of Petco Park and caused some damage," according to an email from Lt. Adam Sharki, the Tribune reported.