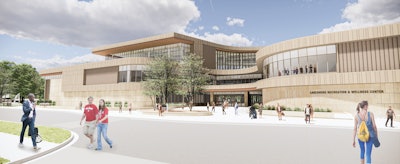 Bakke Recreation & Wellbeing Center [Rendering courtesy of Kahler Slater]
Breaking Ground
Construction on the new Bakke Recreation & Wellbeing Center, designed by Kahler Slater and HOK, is underway at the University of Wisconsin. The natatorium will provide the Madison campus with a home for wellbeing services (including spaces to support mental health), a 25-yard recreational pool, eight basketball courts, an ice sheet, expanded fitness areas, multipurpose studios, an indoor jogging track and an adapted fitness lab for the university's kinesiology program. From a four-level fitness center that is sited to capture views of a nearby lake, to multiple rooftop terraces, the design is focused on connecting the students and guests with the unique landscape surrounding the facility. Construction is expected to wrap in spring 2023.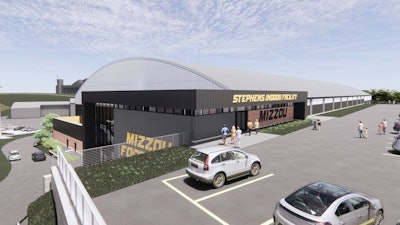 The Mizzou Tigers broke ground on the 86,400-square-foot Stephens Indoor Facility, expected to open in the summer of 2023. It will include a football field with appropriate run-off distances for student-athlete safety, as well as an upper mezzanine level with a viewing lobby and game-day facilities including expanded restrooms and VIP premium indoor tailgating opportunities.
---
First Pitch
Funding for a new $26.5 million wrestling facility at the University of Iowa surpassed $25 million in late February, and construction on the 38,500-square-foot training center is expected to begin in the spring. The new facility will double the Hawkeyes' training space inside Carver-Hawkeye Arena, which has housed the program since 1983. A tunnel will also be built to connect the wresting facility and Carver-Hawkeye Arena next door.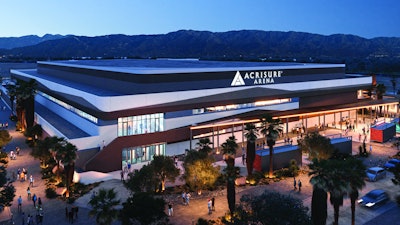 Oak View Group announced a 10-year naming rights agreement with fintech leader Acrisure for a planned 300,000-plus-square-foot arena in Palm Springs, Calif. Acrisure Arena — the future home of the Coachella Valley Firebirds, the Seattle Kraken's AHL team — is projected to open for the 2022-23 season. Acrisure Arena will be in the heart of the Coachella Valley on 43 acres of land. The 11,500-seat facility will have modern suites and four premium hospitality clubs. This is the first arena sponsorship for Acrisure, and financial terms of the deal were not disclosed.

---
Grand Openings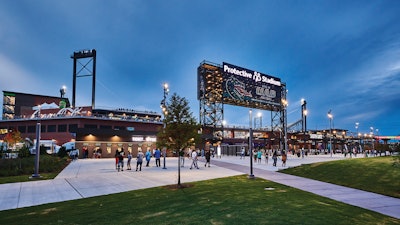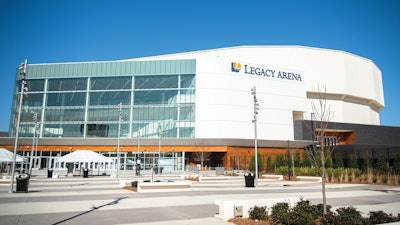 Design firm Populous worked together with the City of Birmingham, Ala., on two facilities — the new 42,000-seat Protective Stadium and the redesigned 15,000-seat Legacy Arena — which have both been unveiled in the city's downtown. The 835,000-square-foot, $188 million Protective Stadium is the new home of the University of Alabama at Birmingham. The 45-year-old Legacy Arena received a $71.7 million rejuvenation into a modern 335,000-square-foot multipurpose arena, which can hold 15,000 for basketball, 16,000 for center-stage concerts and 12,000 for end-stage concerts.
After two years of planning and construction, a $200,000 outdoor fitness space opened in late January at the Louisiana State University's recreation facility, UREC. The 2,500-square-foot area was funded through student fees and features pull-up bars, plyo boxes, battle ropes and a small storage building with extra workout equipment such as kettlebells, weighted sandbags and mats.