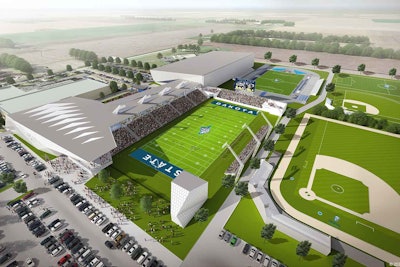 dsu.edu
Dakota State University in Madison, S.D., recently announced the Athletics Events Center, a new facility that will include an upgraded football stadium, relocated track, esports arena, soccer field, indoor gathering space, hall of fame, locker, weight and training rooms, office and meeting space, hospitality and VIP areas, media suites, a biomechanics lab and the Institute on Human Movement and Aging.
At an event in late February, the university shared a virtual walkthrough of the facility, including renderings of spaces and aerial views.
DSU officials said $45 million has been raised for the facilities, with $30 million raised in the last eight months. The first phase of the athletic facilities required more than $35 million to move forward.
The upgraded facilities will provide increased student enrollment, balanced distribution of academic majors, increased revenue-generating opportunities for DSU and the greater Madison area, business opportunities, and academic growth for additional programs, DSU said in a news release.
Additional priorities to be addressed include an arena for basketball and volleyball, an indoor track and training facility, an outdoor plaza, and baseball and softball fields.
Dakota State is building champions with $45 million raised for the new athletics facilities. This will be transformative for DSU and the Madison community.

Find out more ▶️ https://t.co/nYAT5q1kYo#TrojansUnite #BuildingChampions #WeAreDakotaState #DSURising pic.twitter.com/ZFbCzXDJCo

— Dakota State University (@DakotaState) February 28, 2022
"The development of the complex will enable DSU to compete consistently for conference titles and national championships," the university said in the release.
The field house was built in 1957, the football stadium has a grass surface instead of artificial turf and there is not an indoor practice facility, even though teams must train indoors more about half the year, DSJ athletics director Jeff Dittman said. New facilities will allow the department to add additional sports.
The university said fundraising is continuing with a final goal for the project at $100 million "to complete all priorities."