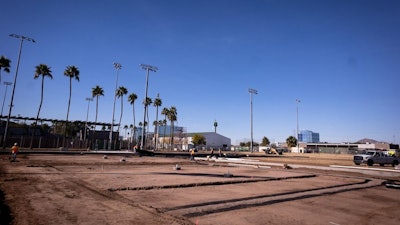 Courtesy of ASU
The Arizona State University sand volleyball team now has a home of its own. 
Since the team's 2014 inception, Arizona State's sand volleyball team has played its matches at the Pera Club, a country club-style facility near the Crosscut Canal that is owned by Salt River Project.
ASU's new sand volleyball facility opened Feb. 2 and is located near Farrington Softball Stadium, east of Rural Road and south of Rio Salado Parkway, on the school's Tempe campus.
Construction on the project started in October "and we're already out here," coach Brad Keenan said.
The sand used for the ASU courts is a replication of the fine sand found on California beaches. It's typically smaller in granulation and doesn't have any lye or powder in it, so it's very clean.
Keenan said the Sun Devils' facility is unique in the way the courts have been spread out for safety and style of play.
"We were using this as a recruiting tool as it was being built," he said. "Now it's going to be even greater when (athletes visit) on campus, so we can show them the courts and show them it's for real."
The courts will also be available for students to use for intramural competition. — Cronkite News 
---
The historic Newell and Weld Boat Houses, homes to the storied Harvard and Radcliffe rowing teams, are about to undergo a comprehensive renovation and updating.
Harvard Magazine reported that the boat houses were constructed in 1900 and 1907. Although some hints about the work have circulated among members of the athletic and recreational rowing communities, formal disclosure of the plans, comes not from Harvard Athletics or the Faculty of Arts and Sciences, but rather through the university's annual "Town Gown Report" to the city of Cambridge. The 2021 edition, presented in early February, lists among capital "projects in planning" the renovation of Weld (home to women's crew and recreational and House rowing).
Among the elements detailed are:
interior renovations including new training facilities, locker and toilet rooms, and accessibility improvements; and
exterior renovations including accessibility improvements, repair and restoration of the building envelope, and compete replacement of the riverside docks and ramps, which are described as having reached the end of their useful life.
Also detailed in the report, the building-envelope restoration will include replacing terra cotta roof tiles, cleaning and repairing masonry, repairing terra cotta sculptural elements over the entrance, and window repairs and replacement.
Similar work is planned at Newell, where the men's crew teams are based—across the Charles in Allston (and therefore outside the scope of the Cambridge town-gown document). Further details about both projects are covered in filings with the state government, discussed below.
As if the work described were not demanding enough—involving careful renovation of historic structures, on sites hemmed in by the river and Memorial Drive (Weld) and Soldiers Field Road (Newell), with significant waterfront and over-water demolition and rebuilding—the report notes further that the projects will be scheduled to "ensure that Harvard's rowing programs have uninterrupted water access and can continue operation during construction." The Weld project is scheduled to begin this June, just after the women's competitive rowing season ends, and to conclude in January 2023, with water access being maintained at Newell in the interim, according to Tim Troville, senior associate director of athletics. On that timeline, he said, the Newell renovation would begin in early 2023 and is scheduled to be completed in January 2024. — HarvardMagazine.com 
---
Brigham Young University baseball and softball are adding new video boards at Miller Park, joining LaVell Edwards Stadium in the latest facility upgrades ahead of BYU's arrival in the Big 12.
The video board being installed for baseball at Larry H. Miller Field is 22 feet tall and 50 feet wide and is located in right-centerfield. The video board at Gail Miller Field, home of BYU softball, is 12 feet tall and 33 feet wide and is also in right-centerfield.
The new video boards were manufactured by ANC, an experience design and execution company, located in Purchase, New York. The project was funded by private donations from BYU Athletics donors.
"The new state-of-the-art video boards will really enhance the gameday experience for baseball and softball games at Miller Park," BYU athletic director Tom Holmoe. "We appreciate the generous contributions of donors in making these boards possible."
Baseball head coach Mike Littlewood and softball head coach Gordon Eakin are both excited about the new video boards and what they mean for the teams' upcoming home games.
"I'm very excited about the new video board at Miller Park," Littlewood said. "It will bring an entirely new level of fan experience to Cougar baseball. I want to thank our incredible donors for making this possible."
"The new video scoreboard will greatly enhance the softball game day experience for our fans at Miller Park," Eakin said. "Our players will love it and it will enhance our recruiting going into the future." — The Daily Universe
---