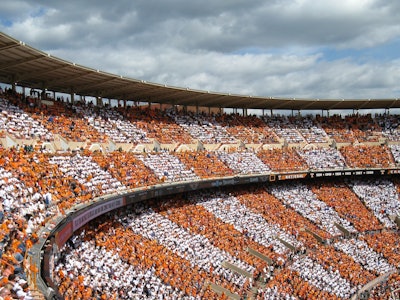 The University of Tennessee's budget for the 2022-23 fiscal year includes nearly $200 million for athletics upgrades and renovations.
According to the Knoxville News Sentinel, which obtained a copy of the budget, administrators framed the proposed array of projects as "the first step in an aggressive facility plan."
Renovations to Lindsey Nelson Baseball Stadium alone would account for $56.8 million of the requested funds.
"Lindsey Nelson Stadium does rank among our priority projects, and we are working as quickly as the state's framework allows," Satkowiak said. "State approval in July is the next important step toward the progress we hope to make for baseball as well as several other programs."
In all, the proposed budget would address 14 of Tennessee's athletics programs, including $28.3 million toward adding premium club amenities at Thompson-Boling Arena; $38.98 million for a new indoor track and field facility; $15.2 million toward renovation to Allan Jones Aquatic Center; $11.6 million toward Sherri Parker Lee Stadium renovations; and $7.5 million for Neyland Stadium maintenance.
"It speaks to [athletic director Danny] White's vision of supporting each and every program through facilities and programmatic needs to ensure we are constantly competing at the highest level academically and athletically," Satkowiak said. "As Tennessee strives to become the best athletics department in the country, we are committed to supporting each team and each unit as such.
The proposed budget, including $188.9 million in athletics projects, was approved in February by the UT system board of trustees, but facilities projects will require further approval from the state.