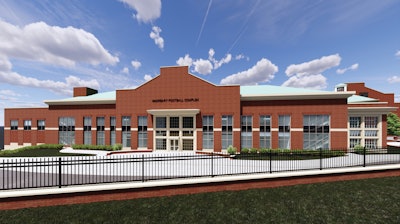 [Image courtesy of of Wake Forest University Athletics]
Breaking Ground
Wake Forest University in Winston-Salem, N.C., has started work on the $38 million McCreary Football Complex, which includes 60,000 new square feet adjoining the existing McCreary Football Field House and Sutton Sports Performance Center; locker space for 130 student-athletes; a player lounge with a nutrition station, a recovery area and an entertainment area; football athletic training and treatment space; a hot and cold plunge pool area; an equipment center and more. The complex is funded by donor gifts.

The University of New Mexico athletic department is planning a training center at University Stadium in Albuquerque. The Lobos' $4.3 million, 11,312-square-foot facility — attached to the Tow Diehm Facility — will extend to within 30 feet of the goalposts in the south end zone and house an expansive 7,000-square-foot weight room and 1,538-foot aerobic training area. Construction is expected to wrap in fall 2023.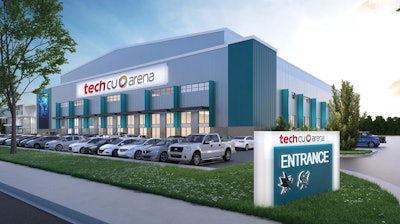 Solar4America Ice [formerly Sharks Ice] at San Jose, Calif., is undergoing a 200,000-square-foot expansion, which will add two recreational ice sheets to the facility, increasing the building's total number of ice sheets to six. The new 4,200-seat Tech CU Arena at Solar4America Ice is expected to open in August. The two-story spectator arena will serve as the new home for the San Jose Barracuda, the AHL affiliate of the NHL's San Jose Sharks. The facility will include locker rooms, training facilities, an in-arena video screen with a 360-degree LED display ring, 12 suites, eight loge boxes, one theatre suite, a 46-person party deck, three bar locations (with one at ice level), seven food concessions stations, a press room and press box, and two team merchandise stores. The ice surface in the arena will be available for public use when not in use by the Barracuda.
First Pitch
Currently in the design phase and set to open in early 2024, the Nevada Wolf Pack men's and women's basketball locker room building at the University of Nevada-Reno will house new team locker rooms and player lounges. The building is funded by the single-largest donor gift in Nevada athletics history: a $4 million gift from alumnus Eric Lannes and his wife, Linda, alongside two $2 million gifts from anonymous donors.
Grand Openings
Boston College has unveiled its Pete Frates Center at Harrington Athletics Village in Brighton. The center is a 31,000-square-foot training facility for BC's baseball and softball teams. The state-of-the-art facility features an array of amenities, including large locker rooms, indoor synthetic turf fields, medical strength and conditioning spaces, and a hospitality area.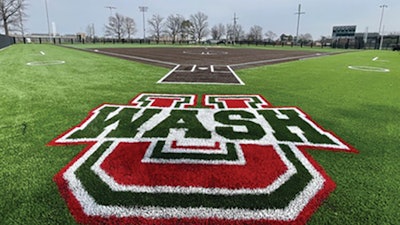 Washington University in St. Louis opened the overhauled Bears' softball and intramural facility in March, with three new batting cages, sunken dugouts with storage, elevated ADA seating, a new press box, storage sheds, a semipermanent fencing system, new aluminum bleachers with Dream Seat chair backs, a new tension netting backstop and a walkway with step lights. The intramural field will allow for other programming such as soccer, flag football, ultimate and spikeball.