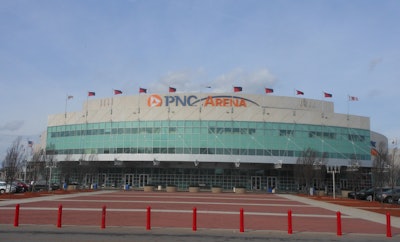 Officials have agreed to give PNC Arena in Raleigh, N.C., a modern facelift, focusing on a complete renovation of the arena and developing the area around it.
The governing board of the 23-year-old venue voted unanimously Thursday to go ahead with the renovation.
"It needs an adrenaline shot. It needs to be upgraded to where arenas are today versus where they were in the late 90's," Jeff Merritt, executive director of Centennial Authority, the governing body that owns PNC, told WRAL.
Improvements to PNC were put on hold due to the COVID-19 pandemic.
Current plans will focus on the fan experience, and giving them a 'Taste of North Carolina," as well as building facility upgrades.
"Figuring out ways to add space for more food and beverage consumption. We've got a great market here for culinary experiences and and by breweries and distilleries," says Merritt.
Designers will also focus on way to bring more light into the arena, while opening up some area that are currently walled in by cinderblock or staircases.
The project will be funded by an inter-local agreement, using funds from hotel/food/beverage taxes.
Renovations were priced at $200 million back in 2019, but are likely higher now due to inflation. Construction is expected to being in 2025.