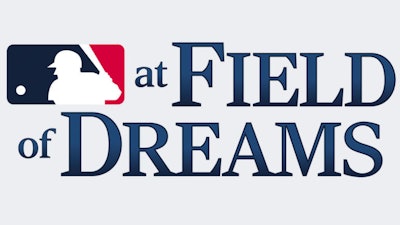 After hosting an MLB game last year, the "Field of Dreams" movie site is looking to create a permanent stadium at the Dyersville, Iowa, location.
A new nonprofit entity unveiled plans to construct a $50 million permanent stadium around the existing baseball diamond at the site that MLB built for last year's game between the Chicago White Sox and the New York Yankees.
The Dubuque County Board of Supervisors voted to allocate $5 million of the county's American Rescue Plan Act funding to the project. The Dyersville City Council also approved $1 million in aid last week.
The 3,000-seat stadium would be in addition to plans announced from Go the Distance — the owner and operator of the site — to spend $80 million in private funding to build a youth baseball and softball destination complex, which would include more fields, dormitories and a hotel, among other improvements to the site.
"This is a unique, once-in-a-lifetime opportunity to be able to create something like this," Keith Rahe, president and CEO of Travel Dubuque, told the Des Moines Register. "What we could create out there is a legacy for everyone. It's generational change. And it's something that all of Iowa could be proud of."
Travel Dubuque is joining the city of Dyersville, Dyersville Economic Development Corp., Dubuque County and Go the Distance Baseball in forming a nonprofit called This is Iowa Ballpark Inc. It will be responsible for raising $50 million in public and private money, including from donations and grants, for the project.
The group envisions the stadium being used all year, with meetings and other events being held there.
"That's a key element for us, that different things within the stadium would make it a year-round destination," Rahe said. "We really feel like the interest in it is unreal. With Major League Baseball playing a game at the field, people want to go there and just see it. And we feel the stadium itself will become a destination."
Rahe said the stadium is not being built for MLB, which invested in the field, fencing and lighting.