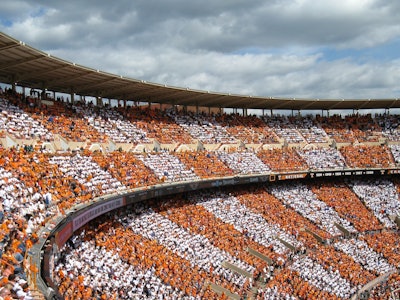 The University of Tennessee Board of Trustees has approved a $108 million bump to the school's budget for renovations of Neyland Stadium, bringing the total cost of the project to $288 million.
"Further justification for an increase in the project budget is directly attributed to annual inflationary increases in labor, materials and other construction costs—particularly recognized over the last 12-18 months," stated a report from the trustees. "The vision for the Neyland Stadium renovations is to deliver an unparalleled experience for the UT community through impactful and resourceful modifications."
After renovations, Vols fans will still have in excess of 100,000 seats for the 2022 season. According to The Knoxville Sentinel, the stadium's new capacity after renovations will be 101,195, just short of the previous capacity of 102,455. 
The renovation project consists of creating a premium experience on the lower west side of Neyland Stadium behind the Tennessee bench. The school is also adding a north end zone video board and creating a standing room only section below that. 
Neyland Stadium has had a capacity of more than 100,000 since 1995. The record attendance is 109,061, set on Sept. 18, 2004, against Florida.