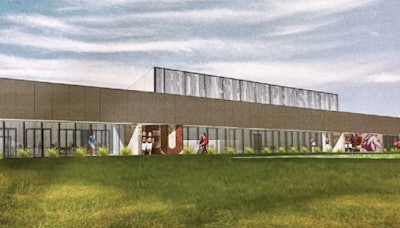 Courtesy of Evangel.edu
Evangel University in Springfield, Mo., recently received a $1 million donation that will serve as the lead gift toward the construction of an outdoor sports and performance facility on campus.
The facility will allow the university to further develop and expand its athletic complex and will be home to the football program, athletic trainers, and varsity weight room.
The gift is from university supporter Shirley Rowden, a philanthropist from central Missouri who believes in the mission of the university and the vision of Dr. Mike Rakes for the next phase of campus development.
The total cost of the project is being finalized and fundraising is ongoing.
It is anticipated that a groundbreaking will take place later this year with a ceremony held during the university's annual Homecoming celebration in October. — Evangel.edu 
---
In Vestal, N.Y., Binghamton University Athletics recently opened a new baseball facility for the Bearcats. 
The new $60 million facility, which was funded by an anonymous donor, includes both traditional stadium seating and a family-friendly berm seating area down the third base line.
A new stadium, clubhouse  and indoor training facility are included, plus amenities to enhance the athlete and community experience such as more seating for fans, batting cages, locker rooms, coach offices, a training room and more. — WBNG-TV, BUBearcats.com
---
The new skate park in Lake Jackson, Texas, is officially open months ahead of schedule. 
Groundbreaking for the new park took place in March with an expected October completion. 
A lack of rainy conditions allowed SPA Skate Parks of Austin to finish construction months early.
The new 8,800-square-feet, poured-concrete skate park at MacLean Park is officially open for use, but an official grand opening event won't happen until later this year.
The construction cost of $600,200 and was paid for through the Lake Jackson Development Corp., which is supported by the half-cent sales tax.
Features of the new park include a mini ramp that flows to the end, a pyramid ramp with a ledge at the top, a rounded off-top ramp, a flat-down bar, a smaller ramp and various other inclines and bars. — The Facts News of Brazoria County