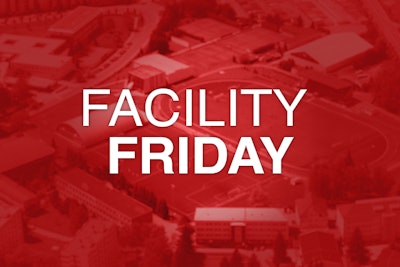 Texas A&M University athletic director Ross Bjork said nearly $100 million has been raised to upgrade the school's football and track facilities.
"At the start of school we'll start to see major progress, where the skyline changes," Bjork said of the demolition of the Aggies' old indoor track and field complex along Wellborn Road. "The building should come down toward the middle to end of August. Things are on track; things are moving."
The adjoining indoor football complex is scheduled to be torn down after bowl practice in December, so the A&M football team still will have it for the 2022 season. The new indoor football complex and its much more architecturally appetizing design — which takes the footprint of the old indoor track building — is scheduled to open in August 2023, Bjork said.
The two cheap-looking buildings that appear to need an air pump (they don't) have been in place for about the past 15 years and have served their purposes, but they will be casualties of A&M's aim to raise $120 million through its fundraising arm, the 12th Man Foundation.
Bjork said A&M has raised just shy of $100 million for the massive overhaul of the football and track areas of campus (visit thecentennialcampaign.com for more information).
With SEC media days on tap starting Monday in Atlanta — A&M coach Jimbo Fisher takes the stage Thursday as the final of 14 coaches to speak — Bjork touched on a handful of topics with Hearst Newspapers, including the latest in conference realignment.
"We're really in a position of strength as things continue to cycle," Bjork said of the Southeastern Conference's alignment as UCLA and Southern Cal prepare to exit the Pac-12 for the Big Ten in 2024. "From a personal perspective, I hope that the waters remain calm (overall), because where all of this is headed, I don't know if it's good for college athletics in general."
Texas and Oklahoma are scheduled to join the SEC no later than the summer of 2025 and likely sooner, giving the nation's most powerful conference 16 teams. Bjork's hope is that the realignment waters do indeed settle in coming months and years.
"We need all kinds of programs and all kinds of leagues to be successful," Bjork said of conferences like the Big 12 not only surviving but thriving moving forward. "We need competition and we need College Football Playoff expansion. (But) the great thing about being in the SEC is that we're in a position of strength.
---
USF explained the next steps in its plan to build an on-campus football stadium Wednesday to a standing-room-only crowd of architecture and construction firms.
Those firms have until Friday afternoon to submit formal, written questions about the 35,000-seat stadium the Bulls intend to build just north of the current football practice fields. Proposals are due on July 22.
From there, USF intends to receive formal presentations on Aug. 9 with the goal of awarding the project to a firm on Aug. 19. That decision must be approved by the board of trustees at its Sept. 6 meeting.
USF walked through that timeline during a pre-proposal meeting at the Lee Roy Selmon Athletics Center. Officials fielded questions about the project, but the biggest one —the budget — remains unanswered.
"That's what this process is going to help determine," assistant director of procurement services Michael Hernandez told the group.
When asked how innovative the Bulls want their facility to be, athletic director Michael Kelly said this stadium will be one of the only ones in college football built this century; the design should reflect that. — Tampa Bay Times
---
Montgomery Academy unveiled its new baseball and softball indoor facility earlier this summer, using an anonymous donor's generosity to convert a former storage facility to a valuable asset adjoining recently acquired land by the private school.
"For inclement weather, it's great," Montgomery Academy athletic director Robert Johnson said. "So now, instead of our practices being rained out, you can do anything in there. For your January and February practices, it's a big benefit. And you can take more advantage of your 10-week, two-hour-a-week rule in the fall.
"The facility, adjacent to the third-base side of Bowen Field, was expanded and had turf installed to create the indoor facility. Like many programs, covered batting cages already existed on the first-base side -- located between the baseball and softball fields -- but it had limitations.
"We have an outdoor facility," Johnson said. "Our outdoor cages are covered but this (floor to ceiling) is like 15 feet, so the rain is just going to come in and the wind is just going to come in. Eight feet is plenty high."
The new facility allows multiple groups to work out at the same time, permitting the softball and baseball groups to utilize the same facility or dividing the groups among the varsity, junior varsity and middle school groups.
"It's got two big (batting) cages, but can be split into four cages," Johnson said. "It's also got a throwing lane down the middle for a bullpen, which you can also do in either one of the cages. It's got music, fans and heaters in there, along with Rapsodo," a sports analytics company. — The Montgomery Independent