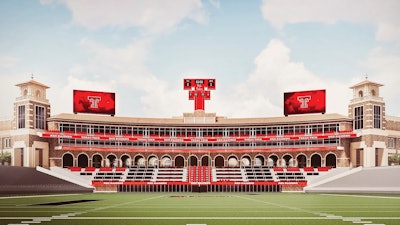 Renderings courtesy of Texas Tech
First Pitch
Texas Tech's football program unveiled plans for a south end zone building at Jones AT&T Stadium that will connect to the new Dustin R. Womble Football Center. The project, estimated to cost $200 million, will be funded through private fundraising and annual athletics department revenue. Pending approval from the university system's Board of Regents, the project is slated for groundbreaking after the 2022 football season with a goal of opening prior to the 2024 campaign. Under the current plans, Texas Tech will debut a new Double T scoreboard atop a new four-story building that will enclose Jones AT&T Stadium. The newly constructed facilities will include more than 300,000 square feet and blend modern design and technology elements with Spanish architecture.
Evangel University in Springfield, Mo., received a $1 million donation toward the construction of an outdoor sports and performance facility on campus. The facility will be home to the Valor football program, athletic training staff and the varsity weight room. The university said a total cost of the project is not yet available. A groundbreaking ceremony is scheduled to take place during the university's Homecoming celebration in October.
Grand Openings
In Corvallis, Ore., a new $7 million facility for the Oregon State University Women's Gymnastics Team is now open. Woofter Bolch Architecture transformed a former warehouse space at the edge of campus into a 20,600-square-foot world-class facility designed to support student-athlete health and wellbeing, individual excellence and team success. The new space triples the practice studio area and includes new and varied training apparatuses for balance beam, floor exercise, uneven bars and vault. There is also a new therapy and cardio area, team and coaches' meeting rooms, and locker areas.
The University of Alabama at Birmingham has opened its new Blazers basketball practice facility to be shared by the men's and women's programs. The facility features two full-size basketball courts, player lounges, film rooms for both teams, and offices for both coaching staffs.
Breaking Ground
As part of the University of Virginia athletics department's Master Plan Phase 2, officials broke ground in early June on an $80 million facility on the Charlottesville campus. The project's first phase, in the fall of 2018, saw three facilities demolished to clear the space for two lighted grass football practice fields completed in summer 2020. The Cavaliers' Football Operations Center will include a locker room, strength and conditioning space, nutrition spaces, meeting rooms, coaches' offices, video operations and sports medicine areas for treatment and recovery. The new center is scheduled to open in the spring of 2024.
In mid-June, construction on the 117,000-square-foot Ashburn (Va.) Community Recreation Center kicked off. When completed, the rec center will have a 50-meter competition pool with spectator seating, classrooms, fitness equipment, a running track, a splash pad and more. The indoor basketball gymnasium with three basketball courts will also have line markings for volleyball and pickleball. Outdoor features will include a multi-use trail around the property, playground equipment and a splash play area. The project is expected to wrap up in 2025, at which time the county parks department will take over operation of the facility.