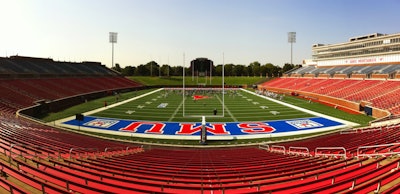 Southern Methodist University's Gerald J. Ford Stadium is looking more like a swimming pool in recent days as historic rains and flooding hammer the Dallas Fort-Worth area.
A photo circulating online showed the effects of the unprecedented weather on the stadium, showing how the flooding was impacting the stadium's turf near the 15-yard line.
According to the National Weather Service, the 9.19 inches of rainfall over the first 24 hours of the storm is the greatest amount of precipitation the area has seen in that span since Sept. 4 to 5, 1932 (9.57").
SMU officials told The Athletic that they're unsure the stadium will be ready when the Mustangs play at home in just over two weeks. The school is bringing in a turf company to inspect the damage and see what can be done.
SMU will kick off the 2022 season on Sept. 3 at North Texas, with its first home game slated for Sept. 10 against Lamar.