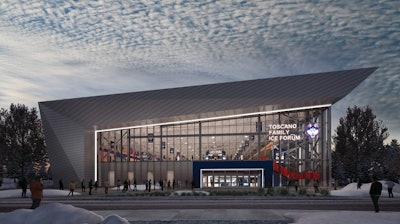 Rendering courtesy of the University of Connecticut
Breaking Ground
The University of Connecticut's state-of-the-art ice hockey arena under construction will be called the Toscano Family Ice Forum. The new facility will have a large center-hung display scoreboard and perimeter ribbon boards with sound and lighting features. The team facilities feature lounges, locker rooms with video displays, training space with a hydrotherapy area, and a strength-and-conditioning room. It will also include areas such as coaches' offices, a media working room, a dining area and more. The arena will host games for UConn's men's and women's Division I hockey teams and also be used by its club hockey programs. The 2,600-seat arena is scheduled to open January 2023.
Crews have begun work on transforming a six-decades-old structure in Baltimore, Md., into the new Baltimore Arena. The $200 million worth of renovations to the city-owned arena are privately funded. The new approximately 14,000-capacity arena is set to be completed by February 2023, just in time to host the Central Intercollegiate Athletic Association men's and women's basketball tournaments.

First Pitch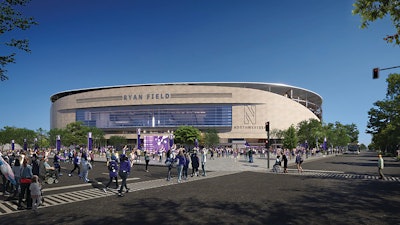 Northwestern University plans to replace its 97-year-old football stadium. Funded with private dollars, the new Ryan Field is being developed as a modern stadium campus designed for smaller crowds, with a maximum capacity of 35,000 (approximately 12,000 fewer seats than the current Ryan Field) with a state-of-the-art canopy intended to focus noise and light on the field. The new stadium will be fan-centered, with improved sightlines and a premium experience, including chair backs for every fan, as well as an innovative student section modeled on other sports, cutting-edge technology and scoreboards, upgraded concessions featuring food from local restaurants, and iconic design features inside and out.
The University of South Florida this fall announced plans for multiple projects. The Bulls are planning new facility additions such as an on-campus football and lacrosse stadium by the 2026 season, a baseball and softball clubhouse, a tennis facility, an overhaul of the golf practice facility, and a new press box and video board at USF Track & Field Stadium. Plans for a beach volleyball program include building a new facility adjacent to the Yuengling Center basketball arena and providing renovated coaches' offices and a locker room. Women's lacrosse will utilize a new locker room and coaches' offices in the Lee Roy Selmon Athletics Center, and will begin play in Corbett Stadium before moving into the on-campus stadium. Many facility enhancements that are part of the plan have already been achieved in the last year or are nearing completion.
Grand Openings
This fall in Mount Vernon, Iowa, Cornell College opened the $19.5 million renovation and expansion of the Richard and Norma Small Athletic and Wellness Center, known on campus as the SAW. Designed by Milwaukee-based Kahler Slater, the project includes renovated locker room facilities, an expanded lobby, classrooms and a 20-yard functional fitness turf area. The building has been under renovation since the spring of 2021.
Elon University has just celebrated the opening of its Baseball Performance Center in Elon, N.C. Located along the right-field line at Latham Park, the indoor facility features four batting cages and garage bay doors to allow student-athletes to train year-round. Also included is a radar-based ball-tracking system that will further assist with student-athlete development.