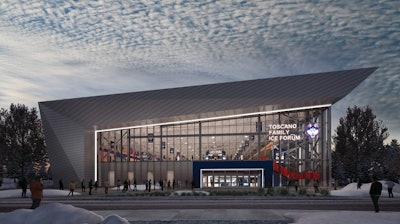 Rendering courtesy of the University of Connecticut
The University of Connecticut's state-of-the-art ice hockey arena under construction will be called the Toscano Family Ice Forum. The new facility will have a large center-hung display scoreboard and perimeter ribbon boards with sound and lighting features. The team facilities feature lounges, locker rooms with video displays, training space with a hydrotherapy area, and a strength-and-conditioning room. It will also include areas such as coaches' offices, a media working room, a dining area and more. The arena will host games for UConn's men's and women's Division I hockey teams and also be used by its club hockey programs. The 2,600-seat arena is scheduled to open January 2023.
Crews have begun work on transforming a six-decades-old structure in Baltimore, Md., into the new Baltimore Arena. The $200 million worth of renovations to the city-owned arena are privately funded. The new approximately 14,000-capacity arena is set to be completed by February 2023, just in time to host the Central Intercollegiate Athletic Association men's and women's basketball tournaments.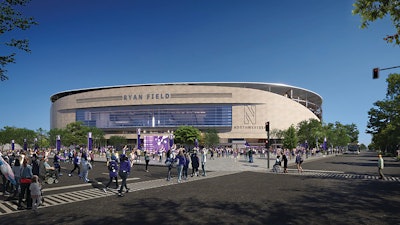 Northwestern University plans to replace its 97-year-old football stadium. Funded with private dollars, the new Ryan Field is being developed as a modern stadium campus designed for smaller crowds, with a maximum capacity of 35,000 (approximately 12,000 fewer seats than the current Ryan Field) with a state-of-the-art canopy intended to focus noise and light on the field. The new stadium will be fan-centered, with improved sightlines and a premium experience, including chair backs for every fan, as well as an innovative student section modeled on other sports, cutting-edge technology and scoreboards, upgraded concessions featuring food from local restaurants, and iconic design features inside and out.
Log in to view the full article