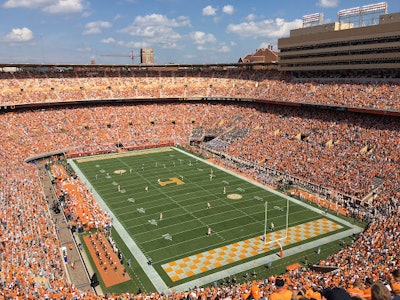 Some enterprising Tennessee fans are hoping to cash in on grass removed from Neyland Stadium Saturday after the Vols beat Alabama.
Ebay sellers are posting what they claim is grass from the stadium, hoping someone will want a piece of history and be willing to pay for it.
Paige Dauer of WVLT 8, posted a picture of a section of the end zone where it appears someone had removed a large section of grass.
As of Tuesday morning there were nine listings for small amounts of grass from the game. The highest bid was $34.
The aftermath from the Vols' historic win left the stadium in disarray, as rowdy fans rushed the field, tore out the stadium's goalposts and threw them in the Tennessee River.
The Southeastern Conference fined the school $100,000 for storming the field.