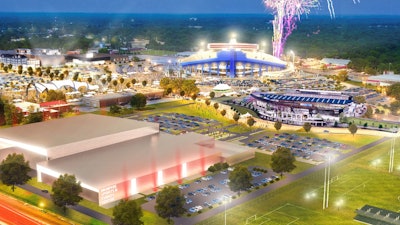 Memphis (Tenn.) mayor Jim Strickland on Tuesday presented the city council with a $684 million plan aimed at improving the city's four major sports venues.
The mayor said the monies would go toward renovating FedExForum (home of the Memphis Grizzlies and UofM Men's Basketball), renovating Simmons Bank Liberty Stadium (home of UofM Football, Southern Heritage Classic, AutoZone Liberty Bowl, and potentially professional sports), renovating AutoZone Park (home of the Memphis Redbirds), and a newly constructed soccer stadium for Memphis 901 FC.
Strickland hopes the improvements will transform Memphis into a world-class sports tourism destination, with initially financial impacts studies estimating a one-time impact from capital investment of $1.3 billion, and a 15-year total impact from operations and construction of $21 billion.
According to the local ABC affiliate, the proposed new 10,000-person soccer stadium for Memphis 901 FC would go at the site of the former Mid-South Coliseum. The design would incorporate portions of the old Coliseum, though "most of it would come down."
"When we launched our football club in 2019, we had two dreams. The first was to compete at the highest level and win a USL Championship. Today, we are proud to be in the playoffs for our second consecutive season, this time as the second seed," said Tim Howard, Sporting Director of 901 FC, in a news release. "The second goal was to build a proper soccer stadium with a world class pitch for our club that rivals that of Louisville or any of the great new venues being built in the United States and Europe for soccer. Today we move closer to that dream."
Strickland said Memphis is asking the state of Tennessee for a one-time state investment of $350 million, which he said would in turn lead to an estimated state tax collection of $539 million.
Strickland said Memphis would ask the state legislature to:
Authorize option for City of Memphis Hotel/Motel tax at 5% (The mayor said the hotel tax is currently 3.5% and can be raised locally to 4% without state approval.) The mayor said asking for more is consistent with legislation for Nashville for their Titans' deal.
Extend FedExForum sales tax rebate through 2053
Authorize Shelby County to extend County car rental tax through 2053