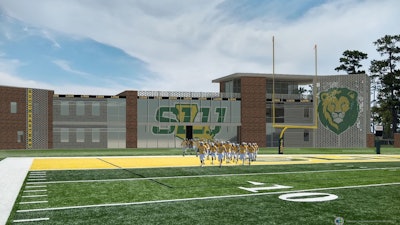 Courtesy of Southeastern Louisiana Athletics
Southeastern Louisiana University has announced plans for new state-of-the-art facilities — including a newly constructed baseball fieldhouse — that will elevate both academics and athletics. The improvements will encompass more than 50,000 square feet and are made possible through a combination of public and private funds.
The multiphase, multiyear project will begin with an update and enhancement for the home of Lion Baseball: Pat Kenelly Diamond at Alumni Field, where a new entrance way, ticket booth and additional concessions area will be constructed for the upcoming baseball season.
In addition, along the left-field line, the new baseball fieldhouse facility will include locker rooms, offices, meeting and storage space, as well as improved athletic training facilities. This new home for Southeastern Baseball is expected to be completed in late 2023.
The new and upgraded facilities will serve as home for the University's Master of Science Program in Athletic Training along with Southeastern Intercollegiate Athletics. In addition to classrooms and laboratory facilities for the Athletic Training program, expanded space for sports medicine, new locker rooms and offices for Southeastern football and soccer programs will be part of the project. — Lionsports.net
---
As Central Washington University's enrollment has grown in recent years, it has become increasingly obvious that the university needs to grow with its student body.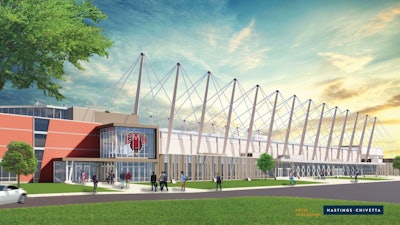 The North Campus Expansion is a series of projects that will allow CWU to better serve its students, staff, and faculty, including:
Wildcat Commons – Refreshing Tomlinson Stadium, which has not been renovated or updated since it opened in 1959.
Recreational Expansion: Construction of a new, multi-purpose field that will accommodate intramural sports, sport clubs, and CWU track and field programs.
The $6 million Tomlinson Stadium renovation project features:
Installation of artificial turf
Regulation-size field for football, rugby, & soccer
Installation of LED stadium lighting
Construction of Wildcat Plaza (South End Zone)
Construction of Alumni Plaza (North End Zone)
Restrooms Renovation
New Entry Gates
New Box Office/Ticketing
As part of the expansion, the campus is also increasing dining options, student housing and renovating a health education-related facility. — CWU.edu
---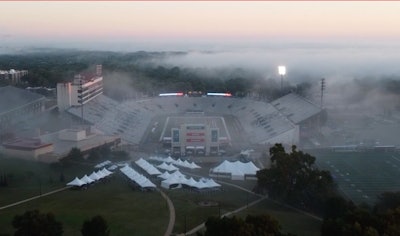 The University of Kansas is moving forward with a transformational development project to create a north gateway to campus that includes new multi-use space and reimagined Kansas Football facilities.
The project will transform the area near the intersection of 11th and Mississippi streets with new facilities that may include a mix of conference and entertainment space, retail and other functions that drive regional economic growth and generate revenue for academic programming.
The project includes major upgrades to David Booth Kansas Memorial Stadium – one of the nation's oldest football venues – to create a world-class experience for fans while providing Kansas Football the facilities it needs to compete at the highest level, as well as renovations to the Anderson Family Football Complex.
KU has chosen HNTB, a global leader in multi-purpose entertainment venue design, as the lead architect, in partnership with Lawrence-based Multistudio. KU has also retained Nations Group, a national owner's representative firm specializing in university athletics venues and mixed-use facilities. The firms will help KU develop more specific plans, timelines and cost estimates in the weeks ahead.
A reimagined David Booth Kansas Memorial Stadium will include upgrades to the in-game experience such as seating bowl design with improved sightlines that increase fan comfort and bring fans closer to the field; expanded concessions, restrooms and accessible seating locations; improved concourse circulation; and new premium amenities such as club seats, loge seats and ledge suites. Stadium design will include multi-use spaces to augment any convention and conference facilities that may be part of the project.
Kansas Athletics is partnering with Elevate Sports Ventures to conduct fan focus groups to solicit feedback on what fans want in a reimagined stadium. Additionally, Elevate recently completed a survey to understand what seating options and amenities are most important to fans.— KUathletics.com