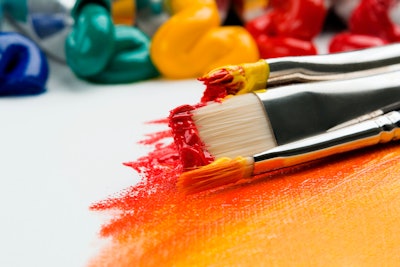 The Cranston (R.I.) Parks and Recreation Department has commissioned a Cranston East alumnus to paint a mural at the school's stadium as part of revitalization project.
Artist Francis Gautier is a 2001 graduate of Cranston High School East, and he told the local NBC affiliate that the project is about trying to "bring some life to the stadium."
Guatier spent a lot of time at the stadium as a student.
"I played basketball," he said. "I believe we went to the first championship in 17 years, at the time."
Guatier is painting the interior walls of the stadium, using abstract shapes and Cranston East's colors.
"It gives it life. It gives that festive school spirit. It gets the color going," Gautier said. "It gives it a vibrant feel and a vibrant memory, as well, for people who were here participating. As they get older, they can remember the stadium."
On the exterior of the stadium, Gautier will pay homage to all the sports played at the stadium.
"We want it to correlate to the kids' sporting programs. We're going to have football, ROTC, cheerleading, soccer, field hockey and a few others," Gautier said.
Murals will be added to the concession stand window, behind the bleachers, and on the stadium sign.
Gautier isn't being paid for the work and is bringing all his own supplies for the project.
"I thought it was a wonderful opportunity for someone like me, being an alumni, former athlete, and still having a close connection to the city, to give back when I can," he explained.
The artwork is expected to be complete in time for the Thanksgiving football game.