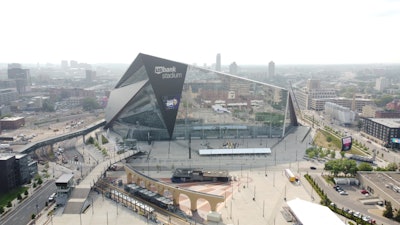 By Lectrician2 - Own work, CC BY-SA 4.0, https://commons.wikimedia.org/w/index.php?curid=108626195
U.S. Bank Stadium, home of the NFL's Minnesota Vikings, is now offering city residents a place to recreate when the temperatures outside are less than hospitable.
For $15 residents can roller skate or run around the upper concourse at U.S. Bank Stadium when the facility is empty and no events are being held.
According to the Star Tribune, the price to skate at the stadium has risen over the years.
Winter Warm-Up tickets are $15 through Ticketmaster this year. Last year, the price was $12. In 2019, it was $8 for adults and $5 for children. When the stadium opened in 2016, runners paid $3 a night and skaters paid $6.50.
Stadium staff say the rising costs are do the rising cost of operations at the facility.
"We look forward to welcoming the community to U.S. Bank Stadium each year for Winter Warm-Up," John Drum, general manager for ASM Global at U.S. Bank Stadium, said in a statement. "Skating and running inside the home of the Vikings during the winter months is a beloved, long-standing Minnesota tradition."
Minnesotans have been recreating at their pro football stadium for decades. The Vikings' former home, the Hubert H. Humphrey Metrodome, offered "Rollerdome" nights with skate rentals and concussions stands.