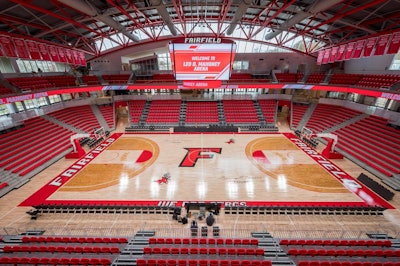 Courtesy of Fairfieldstags.com
In mid-November, the Fairfield, Conn., community celebrated the completion of the $51 million Leo D. Mahoney Arena.
A "Red Sea" of more than 400 Fairfield University community members celebrated the long-awaited grand opening.
The Leo D. Mahoney Arena, an 85,000-square foot, 3,500-seat multi-use space at the heart of Fairfield's campus, is the new home of Stags basketball and volleyball, and will serve as a venue for university concerts and events. The project, which was 100-percent donor-funded, stands in the footprint of its predecessor, Alumni Hall. The arena was designed by Centerbrook Architects and Planners.
Mahoney Arena boasts a state-of-the-art broadcast and media center, luxury seating and lounge areas, and updated features that exemplify Fairfield's modern campus. The main entrance leads fans to a spacious, open concourse level looking toward concessions, a beer garden, and access to seating that surrounds the court below. Above the concourse is a club area, The Diffley, featuring 172 cushioned chairback seats, a premium bar and a spacious lounge area, named in honor of Special Assistant to the President George Diffley, who served for 31 years as vice president for Advancement at Fairfield.
The lower (court) level houses amenities to support Stags student-athletes, including locker rooms, a film room, a team lounge, and a training room for taping, icing, and first aid operations.
The University partnered with industry leader Daktronics to design, manufacture and install 15 total LED displays for Mahoney Arena. The center-hung system is made up of nine displays—four main video displays, four corner wedges and a lower ring. A 360-degree ribbon display circles the seating section and, at court level, four scorers' table displays have been installed.
The Fairfield women's basketball team played the first official game on the Mahoney Arena's hardwood court to open the 2022-23 season with a win over Stonehill College. — Fairfield University
---
The new Rupp Arena at Central Bank Center in downtown Lexington, Kent., transforms the legacy venue from a blank, concrete box into an open, inviting experience that better connects fans to each other and the community.

Previously, some visitors had difficulty even finding Rupp Arena because some found it non-descript, and once inside, it was hard to navigate.
Enhancements include an expanded three-floor concourse and plentiful natural light around the exterior, updates to Rupp's seating and sightlines and four new club spaces.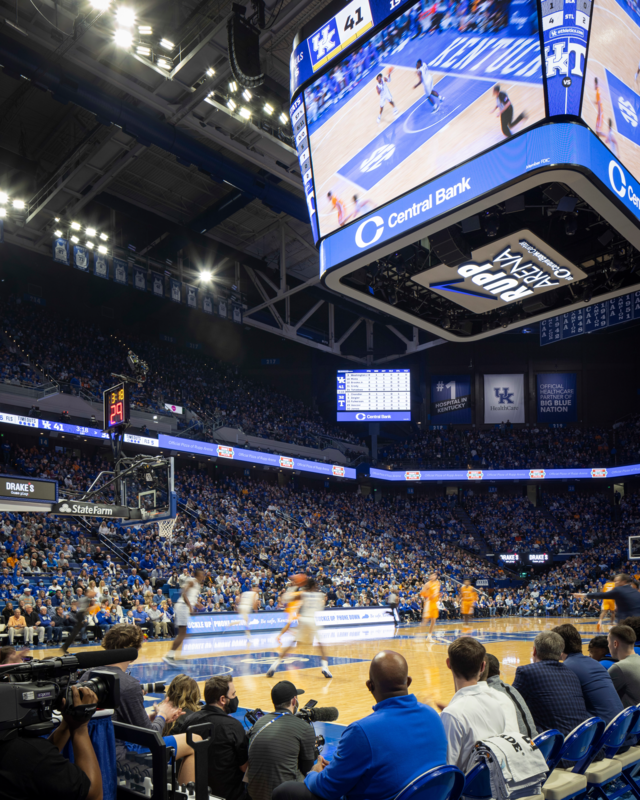 In addition, the project includes major expansions to the adjacent convention center. The project reflects a growing trend of renovating collegiate athletic spaces vs. tearing down and building anew. This is both to preserve the legacy of storied buildings, but also because it is inherently more sustainable.
The project was designed by NBBJ, which also created legacy sports venues like Crypto.com Arena (formerly Staples Center), UCLA's Pauley Pavilion and Paycor Stadium. — NBBJ
---
In Boiling Springs, N.C., Gardner-Webb University hosted a groundbreaking ceremony for the Masters-Melton Indoor Baseball Facility.
The new facility improves the GWU Baseball Program for future student-athletes.
The facility offers space where Gardner-Webb's baseball players can continue to practice in any weather with a weight room, multifunctional turf area that allows for hitting, pitching and fielding practice, nutrition center, player lounge and office.
The building is named in part for Bill Masters, who passed away in June. Masters not only gave the lead gift for this facility, but his legacy of giving spanned several decades and energized the men's baseball program. With his gift, Masters also wanted the building named in honor of his longtime special friend, Patsy Melton Willis. The remaining funds to complete the project were donated by friends, alumni and parents.
Gardner-Webb President William Downs added his appreciation for everyone who made the new facility a reality.
"This new facility is going to improve the competitiveness of our baseball program," Downs said. "It's going to be an asset to our coaches as they recruit new student-athletes, and it's going to be an asset as we work to keep our players here for four years. Ultimately, it's about our players and the guys who will follow them. They'll be better baseball players as a result of this new building, and when they graduate from GWU they'll be better men because of this coaching staff and this special community."
— ShelbyStar.com, Gardener-Webb University